Serial Device Server supports baud rates to 230 K.
Press Release Summary: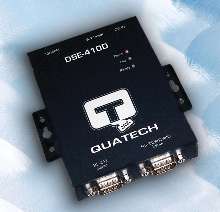 Two-port Model DSE-410D allows standard serial port to be accessed via Ethernet, enabling any authorized computer connected to LAN, WAN, Intranet, or Internet to access equipment. It is switch-selectable for RS-232, 422, and 485, and can be accessed using standard TCP/IP socket commands. Unit includes auto-sensing 10/100 Ethernet interface, UDP Client/Server modes, and Heartbeat connection to automatically re-connect to networks when needed.
---
Original Press Release:

Quatech Announces Addition to Value-Priced Serial Device Server Line


New two-port model provides Ethernet to RS-232/422/485 communication

Hudson OH, October 14-- Quatech, a world-class manufacturer of reliable serial connectivity solutions, announces a new model in their versatile yet budget-friendly serial device server value line, the DSE-410D. This new two-port model, combined with their single-port SSE-410D, and their industry-leading ThinQ(tm) models, gives Quatech a complete range of qualified solutions for serial-to-Ethernet applications.

Available now at a list price of just $299, Quatech's new DSE-410D provides an economical yet robust solution for network enabling two serial devices using a single, compact unit. "As with the single port version, the DSE-410D is a better value, feature-for-feature, than any other two-port serial device server on the market." said Steve Runkel, Quatech's President and CEO. "It is an outgrowth of our continuing efforts to provide Quatech customers with high-quality, attractively-priced product lines that span the entire spectrum of application requirements from the most basic to the most robust."

Much of today's high-tech equipment ships with a serial port for programming, monitoring or diagnostics. 80% of the serial ports are left unconnected, often because a person travels to the port with a laptop to make the connection or because a connection to a permanent PC is not cost-effective. Quatech's DSE-410D enables the standard serial port to be accessed via Ethernet, thereby enabling any authorized computer connected to the LAN, WAN, Intranet or Internet to access the equipment.

The DSE-410D meets the specifications required to support a large number of serial device-to-network applications. It is switch-selectable for RS-232, 422 & 485, and supports baud rates up to 230K. It ships with direct driver support for Windows® 98, Me, NT4, 2000 and XP. The DSE-410D can also be accessed using standard TCP/IP socket commands, and supports serial tunneling applications. Other features include an auto-sensing 10/100 Ethernet interface, UDP Client/Server modes, a Heartbeat connection to automatically re-connect to networks when needed, Telnet support, and for added security, the ability to reject connections from all but a single, defined IP address. The DSE-410D comes with Quatech's standard five-year limited warranty.

For more information and the latest product specifications for the DSE-410D, see Quatech's website at quatech.com/products/sds.php, send an e-mail to sales@quatech.com, or call 800-553-1170 to talk with a Quatech sales engineer.

About Quatech
Quatech is focused on delivering the industry's most reliable serial connectivity solutions. Through quality design, superior manufacturing, and world-class service and support, Quatech maintains the highest levels of reliability that our customers need to achieve lower total cost of ownership for themselves and for their clients. Customers include Fortune 500 companies and government agencies as well as VARs and System Integrators in a variety of industries including financial services, retail, industrial process control, security, aerospace, and hospitality. Quatech is the number one provider of serial connectivity to financial institutions, serving five of the top 10 U.S. banks. Founded in 1983 and headquartered in Hudson, Ohio, Quatech sells and supports its solutions both direct and through a global network of distributors. quatech.com.

Detailed Product Information on the DSE-410D is available online from: http://quatech.com/catalog/mei_sds.php

If you have questions, need more information, or would like an actual photograph of Quatech's DSE-410D please contact:

Lisa Hephner
Media Manager
Quatech, Inc.
330-655-9037
lhephner@quatech.com
quatech.com

More from Electrical Equipment & Systems