Serial Bridges provide one-chip PCIe to UART solution.
Press Release Summary: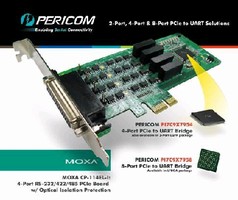 Integrating complete PCI Express interface bridge with multi-protocol UART controller, SBridge Series supports baud rates to 62.5 Mb/sec and comes in 2-, 4-, and 8-port models. RoHS-compliant units include customer programmable EEPROM port and software drivers for Windows and Linux. Family fully meets requirements of PCI-SIG PCIe 1.1 and PCI 1.2 specifications.
---
Original Press Release:
Pericom Expands PCIe Offering with Industry First One Chip PCIe to UART 'Serial Bridge' Family
New SBridge product family offers complete one chip cost effective design solution for expanding UART market requirements INTEL DEVELOPER FORUM, Shanghai, China, April 1, 2008 - Pericom Semiconductor Corporation (NASDAQ: PSEM), a worldwide preferred supplier of PCI Express technology used for switching, timing, bridging and signal integrity, today announced the addition of a new industry first PCI Express SBridge(TM) (serial bridge) product family offering a complete one chip cost effective solution for the expanding CPU to UART (Universal Asynchronous Receiver Transmitter) I/O market. Moxa is the first customer to incorporate Pericom's new UART offering. The new product family integrates a complete PCI Express interface bridge with a fully featured multi port, multi protocol UART controller, and is targeted to volume industrial and building control, point of sale, instrumentation, PDA, and GPS system I/O applications. Pericom will showcase these new products with a 'live' demonstration at booth CE 002 at the Intel Developer Forum, Shanghai International Convention Center, April 2-3, 2008. "The UART controller market TAM is expected to grow to over 60 million ports by the end of 2008," according to Jag Bolaria, senior analyst at semiconductor market research firm The Linley Group. "Pericom is well positioned to capitalize on this growth with leading edge single chip solutions required by next generation embedded control systems." "Pericom's one chip UART solutions give MOXA the performance, flexibility, footprint, and cost savings we require to deliver the most competitive industrial and commercial platforms to our customers," said Sureen Lee, director of HA Strategic Business Unit for Moxa, Inc., a global company that designs and manufactures device networking products for industrial automation (www.moxa.com). "Pericom is pleased to add these three new advanced performance SBridge products to our industry leading variety of PCI Express product functions," said Bill Weir, Pericom's senior marketing director for Connect Products. "UART market growth is fueled by accelerated adoption of embedded UART I/O in building control systems for HVAC, environmental, emergency, and communications control to host CPU applications. We have completed our beta testing and now have design wins with Tier 1 embedded controller providers, such as Moxa." Key Features and Benefits: The Pericom SBridge PCIe to UART family consists of three different UART port count configurations: 2 ports (PI7C9X7952), 4 ports (PI7C9X7954), and 8 ports (PI7C9X7958). The product family is specifically designed for low power consumption and small package size, optimized PCB layout, fully meets the requirements of the latest PCI-SIG PCIe 1.1 and PCI 1.2 specifications, and is listed on the PCISIG certification list. Unique features include: o Complete one chip PCIe to high performance UART solution o High performance 16C950 (RS-232) UART ports o Backward compatible to 16C550/650/750/850 software o Supports Baud rates to 62.5Mb/sec (sync mode) o RoHS compliant and small footprint packages (PQFP and BGA) o Customer programmable EEPROM port for ultimate flexibility o Software drivers for major OS - Windows, Linux In addition to displaying its new SBridge product family at IDF Shanghai, Pericom will present live demonstrations of its new PCI Express to HDMI/DisplayPort switch, a Pericom PCIe enabled video surveillance system, and display various PCIe applications cards. The demonstrations and cards utilize Pericom's PCIe Packet Switch, Bridge, ReDriver, Signal Switch, and Timing products. Pricing and Availability: o Samples, eval board and OS driver development kits are available now, with production quantities available in May, 2008. OEM retail pricing in 10Ku quantities: o PI7C9X7952 - $5.3 o PI7C9X7954 - $6.8 o PI7C9X7958 - $9.5 Further information is available from Pericom sales representatives, with offices worldwide, or by visiting www.pericom.com/pciexpress/ About Pericom Pericom Semiconductor Corporation (NASDAQ: PSEM) enables serial connectivity with the industry's most complete solutions for the computing, communications and consumer market segments. Its analog, digital, and mixed-signal integrated circuits and SaRonix-eCERA frequency control products are essential in the timing, switching, bridging, and conditioning of high-speed signals required by today's ever-increasing speed and bandwidth demanding applications. Company headquarters are in San Jose, California, with design centers and technical sales and support offices located globally. www.pericom.com PCI Express is a registered trademark of PCI SIG (pcisig.org)
More from Laboratory and Research Supplies and Equipment