Sercos-Capable Products for Any Application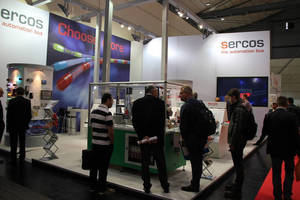 Hannover Fair confirms growing interest in Sercos technology 



Sercos International, supplier of the Sercos® automation bus, registered high interest in Sercos-capable products at Hannover Fair.



A broad portfolio of Sercos-enabled products and growing demand for high performance Ethernet automation busses was responsible for the increasing demand. Visitors to the Sercos joint booth saw that Sercos offers a solution for any application.



One of the highlights was a demo engraving machine from Schneider Electric. Interested parties could receive an engraving and see Sercos live in action at the same time. The new Modicon LMC078, a logic-motion controller for up to 16 servo axes, demonstrated how NC-applications can be implemented using a standard motion controller and the Sercos automation bus.



Bosch Rexroth introduced its new SERCANS Sercos master module with the slogan "one cable instead of three." This is one of the first products for the common Sercos III and EtherNet/IP infrastructure. The parallel communication of Sercos III, EtherNet/IP, TCP/IP and safety-related communication significantly eases automation and allows engineers and system integrators to combine devices from different manufacturers that support Sercos, EtherNet/IP or TCP/IP. This PC plug-in card simplifies the automation of individual machine modules as well as entire machines.



Image processing and the coupling of Sercos with AS-i (actuator-sensor interface) were also hot topics.



Vision & Control presented its pictor® and vicosys® camera systems, plus a demo that showed a high performance Sercos-driven camera in action.



The interconnectivity of Sercos with AS-i were of special interest to visitors who were looking for easy, cost effective and flexible networking at the lowest automation level, while also easily networking with the specific needs of the machine and/or plant. Bihl+Wiedemann presented AS-i systems which perfectly complement industrial Ethernet systems for transmission of process data and safety data.



Various new products from additional manufacturers rounded off the exhibition presence of the Sercos user organization.



Additional information can be obtained via our eNewsletter or website.



About Sercos International



Sercos International is an association of users and manufacturers that is in charge of technical development, standardization, certification and marketing for the Sercos automation bus. Conformance tests guarantee that Sercos implementations are standard-compliant ensuring that devices from different manufacturers can be combined. Based in Germany, the organization presently has more than 90 member companies located around the world and has national liaison offices in North America and Asia.



About Sercos



The SErial Realtime COmmunication System, or Sercos, is one of the world's leading digital interfaces for communication between controls, drives and decentralized peripheral devices. Sercos has been used in machine engineering for approximately 25 years and is implemented in over 4 million real-time nodes. With its open, manufacturer-independent Ethernet-based architecture, Sercos III is a universal bus for all automation solutions.