Separation System suits septage, food, and pulp products.
Press Release Summary: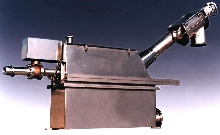 SPIRALIFT(TM) SR receives, screens, and separates solids from liquids. It incorporates fine screening shaftless screw system, spray wash, optional press zone, and integrated controls. System is housed in stainless steel tank enclosure with quick disconnect inlet flange for connection to septage trucks. Automatic inlet valve regulates internal fluid level. SPIRALIFT SR is available with one, 2, and 3 stages of solids separation.
---
Original Press Release:

SPIRALIFT(TM) Model SR Solids/Liquids Separation System


Designed for septage, food or pulp products, the SPIRALIFT SR is a pre-engineered system designed to receive, screen and separate solids from liquids. The SPIRALIFT Incorporates a fine screening shaftless screw system, spray wash, optional press zone and integrated controls. These units feature dewatering and compacting of screenings up to a 40%. The processed solids are conveyed to a convenient elevation for discharge into a bin, bag or conveyor. The SPIRALIFT SR is supplied complete with a control system to monitor and control system operation. These units are designed for capacities to match the offload time of typical septage trucks.

The SPIRALIFT units are housed in a stainless steel tank enclosure with a quick disconnect inlet flange for fast connection to septage trucks. An automatic inlet valve automatically regulates internal fluid level.

SPIRALIFT Systems are available complete with a TASKMASTER Model TT grinder with integrated tramp trap to precondition the septage prior to introduction into the screening system. This optimizes unit performance and efficiency. The SPIRALIFT SR is available with one, two and three stages of solids separation. Auxiliary equipment includes automatic monitoring system for tracking and billing of individual septage haulers and plants.

For more information contact Franklin Miller Inc. 60 Okner Pkwy., Livingston, NJ 07039 USA 973-535-9200 FAX 973-535-6269 email: info@franklinmiller.com

More from Agricultural & Farming Products