Sentry HRX Sampler offers option for changing sample size and frequency.
Press Release Summary: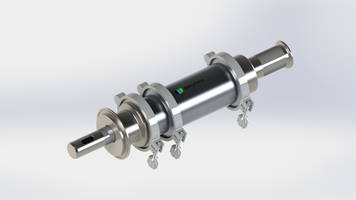 Ideal for low moisture food production facilities having high/medium hygiene classification, Sentry HRX Sampler provides automatic sampling of granules, powders, flakes, pellets, gravity chutes and hoppers. Reducing potential for cross contamination for microbes, unit is easy to clean and sanitize. Meeting standards for food protection and sanitation criteria for materials, design, and construction, product offers easy dismantling without using tools.
---
Original Press Release:
Sentry Equipment Introduces New Hygienic Automatic Sampler
Hygienic strip sampler added to portfolio to help ensure food safety
Sentry Equipment, a global provider of sampling and analysis technologies, announced a new hygienic automatic sampler, the Sentry HRX strip sampler. This sampler is a new addition to the full Sentry portfolio of automatic samplers that minimize food risk from Food Grade and Hygienic to 3-A Certified.
The Sentry HRX sampler is ideal for low moisture food production facilities that have high/medium hygiene classification zones and products that are sensitive to contamination and threats to food safety.
The Sentry HRX automatic strip sampler automates sampling of dry free-flowing materials such as granules, powders, flakes, pellets, grain or seed from positive or negative pressure systems, gravity chutes and hoppers. The Sentry HRX takes a sample when its solenoid-controlled air cylinder moves a sample tube in and out of the product stream. While in line, the tube continuously takes a sample and discharges it through a flexible hose to a collection point.
This new Sentry hygienic automatic sampler closely follows the strict standards of various certifying agencies and technical reports and meets or exceeds minimum food protection and sanitation criteria for materials, design, fabrication and construction. In addition, the Sentry HRX powder and solid sampler is easy to clean and sanitize, reducing the potential for cross contamination of microbes. All product contact surfaces dismantle for inspection without tools.
Sampled product characteristics are not changed by the sampler because no moving parts convey the product to the sample container. Sample size and frequency can be changed at the sampler's controller.
The Sentry HRX is one of three powder and solid hygienic samplers in a line that includes more than 20 automatic samplers for liquids, slurries, high viscosity slurries, powders and solids for nearly every food application.
"Food safety starts with sampling, and representative automatic sampling that is reliable and repeatable – from validation of raw ingredients to quality testing at each key processing stage – is the only way to ensure confidence in food testing results," said AJ Naber, Food and Beverage Industry Manager for Sentry Equipment. "This new Sentry hygienic automatic sampler helps ensure food safety."
About Sentry Equipment
Sentry Equipment leverages proven abilities in engineering and manufacturing to help customers sample, monitor and measure their processes in a variety of markets and applications worldwide. The Sentry brand of representative sampling products and services enables customers to achieve safe, accurate and repeatable results to protect the people, products and environments that matter the most. Since 1924, Sentry Equipment has been a reliable partner for operational and analytical professionals in the U.S. and global markets. As a 100% employee-owned company based in Oconomowoc, Wisconsin, its 180 employee owners serve customers in over 50 countries across six continents. For more information, please visit www.sentry-equip.com.
Elisa Filipp                                                            
+1-262-354-6313                                                  
Paul Dybro
+1-262-354-6364
More from Laboratory and Research Supplies and Equipment