Motion Sensors / Detectors / Transducers
Sensors offer simultaneous position and velocity sensing.
Press Release Summary: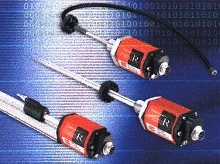 Temposonics(R) R Series Profibus DP sensors feature position resolutions down to 0.0002 in. and velocity resolutions down to 0.04 in/sec. They offer stroke ranges up to 33 ft. Interface enables diagnostic capabilities and error-free transmissions over high-speed serial data link. Sensors operate up to 32 units per line segment and can sense up to 15 magnet positions simultaneously. Rod, profile, and Flex style housings are available.
---
Original Press Release:
MTS Introduces Velocity Output Option For Its Temposonics(R) Profibus DP Position Sensor

CARY, NC (March 18, 2002) - Known for its high-speed fieldbus interface, the Temposonics® R Series Profibus DP sensors now include a simultaneous position and velocity sensing capability. Like all R Series products, the Profibus sensors feature the same high-resolution output capability within the standard sensor application housings including the new "Flex" probe.

The Profibus DP interface enables simplified sensor installation and servicing, enhanced diagnostic capabilities and field-proven, error-free transmissions-all over a high-speed serial data link. These combined capabilities enable system integrators to utilize fieldbus-based feedback for high performance distributed, servocontrol applications.

"Like CANbus, the Profibus DP interface is an ideal interface for Temposonics sensors. The interface maximizes the high resolution and data output rate inherent in the R Series sensors, while also enabling custom parameter and function programmability specific to each application," said Dave Edeal, Temposonics Marketing Manager. "The programming flexibility is illustrated by the development of the velocity output feature. Utilizing the inherent modular sensor design, MTS has modified the output module program and upgraded the hardware to improve position resolution and add velocity output."

The new Profibus DP sensors feature position resolutions down to 0.0002 inches (5 microns) and velocity resolutions down to 0.04 inches/second (1 mm/second). New features to the Profibus DP
sensor product line include stroke ranges up to 33 feet (10 meter) standard, with longer custom strokes available.

The R Series Profibus DP interface sensor is capable of operating up to 32 units per line segment. It is also capable of sensing up to 15 magnet positions simultaneously. The new design
allows for a minimum spacing between position magnets of three inches versus four inches in previous designs. Future development will enable the Profibus DP interface to sense multiple position and velocity outputs simultaneously.

The Profibus sensor can be ordered in three different application housings: RH, RP and RF.

The Temposonics Model RH rod style sensors are designed for internal mounting in applications where high-pressure conditions exist (5,000 psi continuous/ 10,000 psi spike) such as hydraulic
cylinders. Mounted externally, the Model RH sensors offer users the ability to quickly and easily replace the electronic head and sensor cartridge in the field without the need to remove the sensor from its mounting.

The Temposonics Model RP profile-style sensors offer two different magnet-mounting configurations: captive sliding magnet or floating magnet. RP Series sensors are used in applications where it is not possible to place a sensor inside a hydraulic or pneumatic cylinder. These sensors are well suited for space-restricted areas and environments with high levels of dust and contamination. In addition, RP sensors can be externally mounted on machines and configured with a variety of connector options.

Temposonics Model RF "Flex" style sensors utilize a flexible but rugged IP 65-rated sensing element. This design is also intended for sensing both linear and complex curvilinear motion with a
minimum bend radius of 8 inches. Model RF sensors are not intended for use inside hydraulic or pneumatic cylinders, but are well suited for a wide variety of custom externally mounted housing installations. The RF design can be produced in lengths up to 60 feet (18.3 meters). Coiled for shipment, the flex style sensor fits with a three-foot crate.

For more information, visit the MTS Sensors Division Web site at www.temposonics.com, or contact: Dave Edeal, MTS Sensors Group, Temposonics, 3001 Sheldon Drive, Cary, NC 27513, call (800) 633-7609, (919) 677-2373 or fax (919) 677-2350.

MTS Systems Corporation is the world leader in magnetostrictive linear displacement technology. MTS Systems Corporation is a global operation, with facilities in the U.S., Germany and
Japan. In the U.S., the MTS Sensors Division is an ISO 9001 facility manufacturing rugged and reliable Temposonics position sensors as well as the highly repeatable and accurate Level Plus
transmitters and gauges. With a strong commitment to research and development, product quality and customer service, Sensors Division is constantly seeking ways to bring the highest value to
customers.


More from Electrical Equipment & Systems