Sensorless 3-Phase Motor Controller aids BLDC implementation.
Press Release Summary: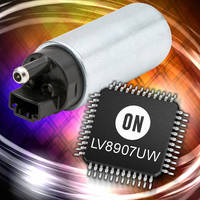 Supporting 5.5–20 V operating range (4.5–40 V transient), AEC-Q100-qualified LV8907UW enables streamlined solutions for driving 3-phase brushless motors. IC, in base configuration, can operate without external MCU and does not require any programming. Open- and closed-loop speed control are possible. For more complex applications, LV8907UW can support MCU via integrated linear regulator, LIN transceiver, and watchdog timer. Integrated dual-stage charge pump allows 100% duty-cycle operation.
---
Original Press Release:

ON Semiconductor Announces Sensorless Three-Phase Motor Controller for Automotive BLDC Implementation



Highly integrated solution, including BLDC commutation and gate drivers, eliminates need for microcontroller unit



PHOENIX, Ariz. – ON Semiconductor (Nasdaq: ON) has further expanded its portfolio of motor controllers with the introduction of the LV8907UW. Supporting an operating voltage range from 5.5 to 20 volts (4.5 to 40 V transient), this high performance and feature-packed device enables streamlined solutions for driving three-phase brushless motors. The LV8907UW integrates gate drivers for six N-channel MOSFETs, and a dual-stage charge pump for 100% duty-cycle operation.  In its lowest cost configuration the IC can operate without an external microcontroller. The device requires no programming, as key parameters and functions - such as startup and speed setting - can be configured via SPI interface and stored in embedded non-volatile (OTP) memory. Open-loop and closed-loop speed control are possible. For more complex applications the LV8907UW can also support a small microcontroller with its integrated linear regulator (3.3V or 5V, 50mA), a local interconnect network (LIN) transceiver for automotive connectivity, and a watchdog timer.



AEC-Q100 qualified, the LV8907UW's operational temperature range reaches up to 175°C, thereby ensuring reliable operation in challenging automotive environments. Integrated protection mechanisms include over-current, over-voltage, short circuit, under-voltage, and over-temperature. The features of the device make it ideal for use in automotive water pumps, oil pumps, fuel pumps, HVAC systems, radiator fans, and headlamp cooling units.



"Compelled by market pressures and increasingly stringent legislative measures, automotive manufacturers need to find ways to improve the fuel economy of their models.  Electrification of former mechanical applications – such as pumps and fans – is a key step in this path", explains Ikuya Kawasaki, General Manager of System Solutions Group at ON Semiconductor. "Thanks to its high degree of integration and support for sensor-less operation, the LV8907UW enables motor systems to attain maximum efficiency levels without a microcontroller.  The resulting designs have reduced complexity and bill of materials, and enhanced reliability."



Packaging and Pricing

The LV8907UW is supplied in a SQFP48K package format. It is priced at $5.55 per unit in 2500 unit quantities.



About ON Semiconductor

ON Semiconductor (Nasdaq: ON) is driving energy efficient innovations, empowering customers to reduce global energy use. The company is a leading supplier of semiconductor-based solutions, offering a comprehensive portfolio of energy efficient power management, analog, sensors, logic, timing, connectivity, discrete, SoC and custom devices. The company's products help engineers solve their unique design challenges in automotive, communications, computing, consumer, industrial, medical, aerospace and defense applications. ON Semiconductor operates a responsive, reliable, world-class supply chain and quality program, a robust compliance and ethics program, and a network of manufacturing facilities, sales offices and design centers in key markets throughout North America, Europe and the Asia Pacific regions. For more information, visit http://www.onsemi.com.



Follow @onsemi on Twitter.



ON Semiconductor and the ON Semiconductor logo are registered trademarks of Semiconductor Components Industries, LLC. All other brand and product names appearing in this document are registered trademarks or trademarks of their respective holders. Although the company references its website in this news release, information on the website is not to be incorporated herein.



Contacts

Noriko Fujiwara

Media Relations

ON Semiconductor

(602) 244-5986

Noriko.Fujiwara@onsemi.com



Parag Agarwal

Vice President Investor Relations

ON Semiconductor

(602) 244-3437

Parag.Agarwal@onsemi.com



Issued by:

Hannah Hines, Pinnacle Marketing Communications Ltd

Tel: 00 44 (0) 20 8429 6547

Email: h.hines@pinnaclemarcom.com

Web: http://www.pinnacle-marketing.com

Related