Sensor Tester checks hydraulic motor speed sensors.
Press Release Summary: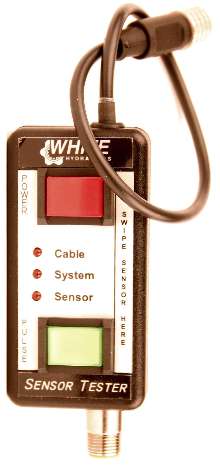 Designed to facilitate troubleshooting and testing of hydraulic motor speed sensors and pulse detection systems, Sensor Tester lets user know if any part of speed control system is malfunctioning. LED light, audible signal, and flashing pulse button confirm proper operation of sensor/system, while cable LED ensures cable is connected properly and that power is being supplied. LED also indicates that trickle charger feature is working.
---
Original Press Release:
White Hydraulics, Inc. Introduces Tester To Simplify Testing Of Hydraulic Motor Speed Sensors And Pulse Detection Systems
Hopkinsville, KY - White Hydraulics, Inc. is proud to announce the introduction of our NEW sensor tester for hydraulic motor speed sensors and pulse detection systems. "The sensor tester is a first of its kind testing device," says Jeff Englehardt, director of marketing, "It will transform the way maintenance staffs and mechanics test and troubleshoot hydraulic motor speed sensors and pulse detection systems. In the past there were two methods of troubleshooting speed control systems. One was complicated, time consuming and required an experienced mechanic using a multi-meter. The other threw away a perfectly good sensor only to find out the pulse detection system was the problem. This proved to be quite expensive, especially when a speed sensor can cost between $150 and $200." The patent-pending Sensor Tester is easy to use and simplifies the troubleshooting process. It lets any mechanic know what part of the speed control system is malfunctioning in a matter of seconds. Just disconnect the sensor from the pulse detection system, then connect the tester's output cable to the sensor, turn the tester's power on, swipe the tester on the swipe strip and wait for the "sensor" LED light and audible. If the light and signal turn on, the mechanic knows the sensor is working properly. Connect the pulse detection cable to the tester's male connector and push the pulse button to switch to the system function. The system LED will then illuminate, the pulse button will begin to flash, accompanied by an audible signal. If the system is working correctly, the user's pulse detection system will show a simulated sensor pulse rate. The "cable" LED illuminates when the mechanic connects the system cable to the tester. This ensures the cable is connected properly to the tester and power is being supplied. The LED also indicates that the trickle charger feature is working. The cable LED will stay on whether the power button is switched on or off. The Sensor Tester is designed to test Hall effect and optical (Mini Beam) sensors. However, it will be able to test most low voltage (4.5 to 24 VDC) sensors that make and break contact per pulse ... including our competitors'. Customers are encouraged to contact our customer service department to verify the Sensor Tester's ability to test their sensors on a case-by-case basis. A 12-volt alkaline battery powers the Sensor Tester. In addition, it can be connected to a 12 - 24 VDC power supply. A built-in trickle charger enables the external power supply to charge the battery while connected to the power supply. If the battery gets low, connecting the external power supply to the tester overnight can recharge it. The Sensor Tester's battery is capable of accepting 10 to 20 charging cycles before needing replacement. For maximum battery life use the Sensor Tester in temperature -4°F to +130°F (-20°C to +54°C). The Sensor Tester is made of flame-resistant ABS plastic and comfortably fits in a hand. It has a 12" (105.4mm) output cable with a 3- or 4-pin female connector and an input plug with a 3- or 4-pin connector. The standard unit uses TURCK's eurofast® 4-pin connectors. Units with 3-pin or 4-pin weather pack connectors are available. Applications for the Sensor Tester include snow and ice removal and robotics among others. Customers for the Sensor Tester include departments of transportation, landscapers/snow removal companies, and industrial automation firms. About White Hydraulics, Inc. Founded in 1977, White Hydraulics is the world's largest independent manufacturer of low speed high torque hydraulics motors. Complimentary products include brakes, flow dividers, variable displacement piston pumps and accessories. Product, service and support are available worldwide through our facilities located in North America, Europe and Asia and our global network of over 110 distributors. For information on this and other products visit our website at www.whitehydraulics.com eurofast® is a registered trademark of TURCK Inc. USA
More from Electronic Components & Devices