Position Sensors / Detectors / Transducers
Sensor Systems aid in solar panel production.
Press Release Summary: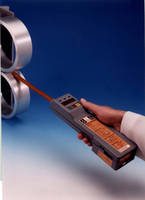 Noncontact capacitive gap and parallelism sensor systems measure precise distance between liquid, anti-reflective, and CVD coating head-to-media during solar panel production. Systems enable manufacturers to maintain thin-film coating uniformity and to optimize yield and efficiency.
---
Original Press Release:

New Capacitec Non-Contact Capacitive Gap and Parallelism Sensor Systems Improve Solar Panel Production Efficiencies



September 23, 2009, Ayer, MA, USA - Capacitec, Inc. (Capacitec) (www.capacitec.com), a global leader in the design and manufacture of non-contact capacitive displacement, gap and parallelism sensing technologies for scientific and industrial customers, has announced the debut of a series of non-contact capacitive gap and parallelism sensor systems for the solar panel market. The systems are designed to measure the precise distance between liquid, anti-reflective and CVD coating head-to-media during solar panel production, helping manufacturers maintain thin-film coating uniformity, while improving yields and efficiencies.

The unique expertise of Capacitec within the solar panel manufacturing market is the culmination of more than 15 years of successful implementation of measurement technology within the semiconductor manufacturing equipment, as well as in design of slot die coater gap measurement systems sold to both OEM's and end users, working with customers such as 3M, DuPont and Avery Dennison. Within the liquid coating market, Capacitec has successfully collaborated with leading global manufacturers of labels, tapes and films, as well as slot die suppliers, to develop new systems that more precisely measure coater gaps. These systems have made dramatic improvements over traditional gap measurement methods across a variety of industries, allowing manufacturers to achieve coater gap uniformity of better than 10 micro inches (0.25 microns), with gaps as thin as 0.0041" (110 microns) across the full length of the coater die.

In the manufacture of traditional solar panels, a thin-film PV layer is deposited onto the silicon layer using a Chemical Vapor Deposition (CVD) process. Additional layers are added and the PV module is then encapsulated between a glass panel and reflective backing, forming the Solar Panel Module. Capacitec systems are used during each of these steps. In flexible solar panels, CVD coaters are used in the production of the Transparent Conductive Oxide (TCO). In this case, a Capacitec parallelism sensor system is used to measure the distance in-process between the CVD coater head and metal carrier roll, in temperatures up to +600°C. During OPV solar panel fabrication, a Capacitec slot die coater gap measurement system is employed to maintain organic material coatings uniformity during PV production. Capacitec systems are also used to maintain parallelism between the Slot Die Coater and metal roller, as well as the parallelism of metal rollers during the encapsulation stage. For more information about these and other non-contact capacitive sensing systems available from Capacitec, please visit www.capacitec.com.

About Capacitec, Inc.:

Headquartered in Ayer, Massachusetts, with additional operations in Creteil, France, Capacitec is a global technology company dedicated to advancing the capacitive principle of measurement physics to its highest level in sensor system design. The company's core competencies are the design and manufacture of non-contact capacitive displacement, gap and parallelism sensing systems, which include hardware, data acquisition systems and software. Capacitec specializes in large range, small diameter sensors that operate in severe environments, from cryogenic to +1000°C, under radiation to 1011 RADS and in magnetic fields to 5 Tesla. More than 25 years of successful product line history has demonstrated Capacitec's expertise across all markets, particularly within applications where a more sophisticated ruler is required, and where traditional sensors cannot fit or survive a typical environment.

Contact:

Sales/Marketing/Technical:

Bryan Manning

Director of Marketing/Business Development

Capacitec, Inc.

Tel: 978.772.6033

Email: marketing@capacitec.com