Level Sensors / Detectors / Transducers
Sensor System monitors material level in pressurized reservoirs.
Press Release Summary: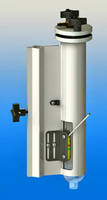 Low-Level-Sensing Reservoir System prevents empty material reservoirs from introducing air into dispensing lines, eliminating contamination during dispensing process. In addition to utilizing adjustable sensor, system features SB-100 controller that activates warning when material in reservoir reaches specified low level. External PLC connection allows for total line shutdown, and adjustable sensor configuration lets operators set specific levels of material.
---
Original Press Release:

Sensor System Accurately Monitors Material Level in Pressurized Reservoirs



Prevents Contamination During Dispensing Process



Torrington, Connecticut – A new Low-Level-Sensing Reservoir System from Dymax Corporation prevents empty material reservoirs from introducing air into dispensing lines, thereby eliminating contamination during the dispensing process.  The system utilizes an adjustable sensor for use with pressurized reservoirs, and features an SB-100 controller which activates a warning when the material in the reservoir reaches a specified low level.  The controller also features an external PLC connection that allows for a total line shutdown, saving time and money by stopping the dispense system when material reservoirs are empty.



The easy-to-use sensor configuration is adjustable, allowing operators to set specific levels of material to signal warning and automatic shut-off options.  The low-level functions include remote visual beacon, audio buzzer, and auto shutdown.  There are no wetted components – the sensor does not contact fluids, so it's compatible with a wide range of materials.



In addition to adhesives and coatings, Dymax also offers high-performance oligomers and a variety of dispensing and light-curing equipment.  The company's products are perfectly matched to work seamlessly with each other, providing design engineers with tools to dramatically improve manufacturing efficiency and reduce costs.



For additional information, visit www.dymax.com or contact Dymax Application Engineering at info@dymax.com or 860-482-1010.  Dymax Corporation develops innovative oligomer, adhesive, coating, dispensing, and light-curing systems for applications in a wide range of markets.  Major markets include aerospace, appliance, automotive, electronics, industrial, medical device, and metal finishing.