Position Sensors / Detectors / Transducers
Sensor offers absolute position output up to ±1,440°.
Press Release Summary: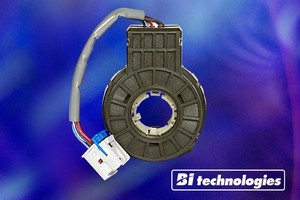 Developed for automotive steering applications, digital angular position sensor offers analog, PWM, and CAN Bus outputs. With ±0.40% accuracy and 0.1° resolution, device features 12-bit resolution over 360° of rotation and life cycle of 25 million rotations, minimum, and operates at 5 V and between -40 to 125°C. Device also can be integrated with Magnetorque sensing technology for shaft applications.
---
Original Press Release:

BI Technologies Develops DAPS Steering Sensor with ±1440° Rotation



Digital angular position sensing technology provides non-contact absolute position...

FULLERTON, CA (October 26, 2006) - Providing design engineers with a precision output, non-contact device for absolute position sensing, TT electronics BI Technologies Electronic Components Division has developed a digital angular position sensor (DAPS) for automotive steering applications. The precision, high-resolution device offers analog, PWM and CAN Bus outputs. DAPS position sensing technology is ideally suited for use in automotive stability control systems where accurate steering position information is needed.

According to Dan Sparks, vice president of the automotive business unit for BI Technologies' Electronic Components Division, the position sensor utilizes BI's proprietary broadband energy transfer technology, which provides extremely accurate position and speed information. "Our DAPS sensors can be programmed by customers at the time of installation to set 'zero degree' positions, and the outputs provide absolute position information with no gaps in the signal, through ±1440° of rotation," said Sparks.

"The broadband energy transfer technology makes DAPS sensors ideal for position and speed sensing in vehicle steering applications."

The DAPS steering sensor features 12-bit resolution over the full 360° of rotation, with absolute position output available up to ±1440°, and a life cycle of at least 25 million rotations. The sensor can be integrated with BI Technologies' Magnetorque sensing technology for compliant shaft applications that require torque sensing.

The steering sensor has an accuracy of ±0.40% and a resolution of 0.1°. Typical operating voltage is 5.0V (±0.25V), with 12V operation available, and operating temperature range is -40°C to +125°C. BI Technologies will also produce custom package sizes to meet customer requirements.

For more information about BI Technologies' DAPS position sensing technology, contact BI Technologies at 714-447-2571, by fax at 714-447-388-0046; or visit: http://www.bitechnologies.com/products/sensors.htm.

BI Technologies has been an innovator and leader in electronic components for more than 50 years. The company is a global manufacturer of trimming and precision potentiometers, position sensors, turns-counting dials, chip resistor arrays, resistor networks, integrated passive networks, transformers, inductors, hybrid microelectronics and custom integration products for communication, computer, automotive and industrial applications.

BI Technologies serves a global customer base with manufacturing locations in the United States, Mexico, Scotland, Japan, China and Malaysia.

TT Electronics plc is a global electronics company manufacturing a broad range of advanced electronic components, assemblies and sensor modules for the automotive, industrial, telecommunication, computer and aerospace markets.

For more information, contact:
Dan Sparks
VP New Business Development
714-447-2476
dansparks@bitechnologies.com

More from Electrical Equipment & Systems