Sensor Networking System features WirelessHART compliance.
Press Release Summary: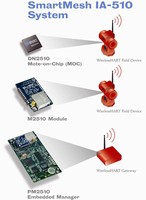 Combining Intelligent Networking Platform and low-power radio technology, 2.4 GHz SmartMesh IA-510(TM) features variable bandwidth and optimal allocation of timeslots, enabling single network to meet latency and throughput needs of multiple applications. Intelligent routing algorithms, dynamic interference assessment, frequency hopping, time synchronization, and full mesh networking ensure reliability. For security, AES 128-bit cipher is incorporated on multi-level encryption key scheme.
---
Original Press Release:

Dust Networks Announces Embedded Wireless Sensor Networking Solution for WirelessHART Standard



SmartMesh IA-510 Accelerates Time-to-market for WirelessHART Solutions

HAYWARD, Calif., Sept. 26 /-- Dust Networks(TM), the leading provider of embedded wireless sensor networking (WSN) solutions, today announced the SmartMesh IA-500(TM) family of standards-based WSN systems. SmartMesh IA-510(TM), the first in this family, is compatible with the WirelessHART(TM) standard and enables industrial automation vendors to meet the rapidly growing demand for standards-based WSN solutions.

"Dust has played a pioneering role in wireless sensor networking. The company's Time Synchronized Mesh Protocol(TM) (TSMP), now a foundational building block of the WirelessHART standard, has served as a catalyst for the industrial market," said Harry Forbes, senior analyst at ARC Advisory Group. "Dust's embedded WSN solutions are a critical step in accelerating the broad adoption of standards-based wireless field devices."

The launch of Dust Networks' IA-510 system follows recent industry ratification of the WirelessHART standard. WirelessHART builds on established and field-proven international standards, including the HART(TM) protocol (IEC 61158) and international radio standards (IEEE 802.15.4). Additionally, the WirelessHART standard makes use of advanced mesh networking technologies.

With an estimated 25 million HART field devices currently installed, and approximately 3 million new HART devices shipping each year, industrial automation vendors and end users are expected to embrace the unifying standard. Dust Networks is currently working with leading industrial automation vendors, including Emerson Process Management and Phoenix Contact.

"We have deployed our Smart Wireless field devices, enabled by Dust Networks' technology, in real-world environments and our customers have been thrilled with the results," said Bob Karschnia, vice president of technology for Emerson Process Management. "We are working with Dust to leverage this success and quickly bring WirelessHART standards-based solutions to market."

"We are pleased to be working with Dust Networks, the leader in wireless sensor networking, to bring WirelessHART solutions to market, "said Davis Mathews, business unit manager at Phoenix Contact." The ratification of the WirelessHART standard represents a significant opportunity for Phoenix Contact and the process industry."

SmartMesh IA-510 System
The SmartMesh IA-510 system combines Dust Networks' robust, Intelligent Networking Platform and industry-leading low-power radio technology to deliver complete embedded WirelessHART solutions that are easy for industrial automation vendors to integrate and simple for end users to deploy. Key features include:

-- WirelessHART Compliance: Ensures interoperability with other WirelessHART field devices and gateways.
-- Bandwidth Flexibility: Variable bandwidth and efficient allocation of timeslots enable a single network to meet the latency and throughput needs of multiple industrial automation applications.
-- Superior Reliability: Advanced network optimization and intelligent routing algorithms coupled with dynamic interference assessment, frequency hopping, time synchronization and full mesh networking ensure high reliability even in the most challenging industrial environments.
-- Ultra Low-power: Industry-leading power-efficient radio technology, combined with intelligent network management, provides unmatched low-power operation that can offer more than a decade of battery life on a pair of AA batteries.
-- Easy Integration: Comprehensive APIs offer rapid product development integration while ensuring compliance to the complex WirelessHART command structure. Industry-leading Mote-on-Chip(TM) (MoC) minimizes complex RF hardware design: All that's required is a simple antenna connector for robust RF connectivity.
-- Robust Security: Incorporates AES 128-bit cipher on dynamically updated multi-level encryption key scheme, as well as access control lists to provide end users with the highest level of WirelessHART network security.

The 2.4GHz SmartMesh IA-510 system consists of the PM2510 embedded network manager, which is easily integrated into WirelessHART gateway solutions, and two mote form factors: the DN2510 MoC integrated in a 12mm x 12mm system-in-package (SiP) and the M2510 RF-certified mote module. Products will be available in Q1 2008.

"The SmartMesh IA-510 system leverages our experience in developing intelligent embedded wireless sensor networking solutions to provide our customers with the best implementation of the WirelessHART standard," said Steve Toteda, vice president of marketing at Dust Networks.

Dust Networks will be showcasing its SmartMesh IA-510 system and its customers' wireless sensing solutions at ISA Expo, October 2-4 at the Reliant Center in Houston, Texas. Visit Dust in the HART Bus Station partner pavilion, booth 1349.

About Dust Networks
Dust Networks, the leader in standards-based intelligent wireless sensor networking (WSN), provides ultra low-power, highly reliable systems to industrial automation vendors in a range of markets. Dust Networks enables OEMs to offer monitoring and control solutions that provide unprecedented access to information from the physical world, resulting in improved operations, safer work environments, and increased competitive advantage. Dust Networks' SmartMesh products combine revolutionary wireless networking capabilities with extremely low-power RF System-on-Chip (SoC) technology, providing OEMs with network-ready WSN solutions that are flexible and easy to integrate. Dust Networks partners with industry and standards groups such as ISA, the HART Foundation, and IETF to ensure the broad adoption of interoperable wireless sensor networking products. For more information please visit, http://www.dustnetworks.com/.

Dust, Dust Networks, SmartMesh, SmartMesh IA-500, SmartMesh IA-510, TSMP and Mote-on-Chip are registered trademarks of Dust Networks, Inc. WirelessHART and HART are registered trademarks of the HART Foundation. Other marks are property of their respective owners.

Related