Sensor Interface IC enhances smartphone/tablet functionality.
Press Release Summary: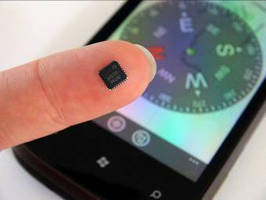 Available in 28-lead PDIP; 32-lead, 7 x 7 mm TQFP; as well as 32-pad, 5 x 5 mm and 4 x 4 mm QFN/MLF packages, Universal Sensors and Transducers Interface (USTI-MOB) integrated circuit facilitates and accelerates design of sensor systems for smartphones and tablets. IC offers 26 measuring modes, has 2.7 V supply voltage, and features active current consumption of <3 mA. Relative error is ±0.0005% in measurement range from 0.25 Hz to 2 (32 MHz).
---
Original Press Release:

Universal Sensors and Transducers Interfacing IC (USTI-MOB) Makes Smartphones' Sensors Smarter



Barcelona, Spain – Technology Assistance BCNA 2010, S. L. (TAB) – a high technological company has announced the global market introduction of the new Series of Universal Sensors and Transducers Interface (USTI-MOB) integrated circuit for smartphones and tablets sensor systems applications.



The new IC has the similar functionalities as the TAB's integrated Universal Frequency-to-Digital Converter (USTI) but a reduced supply voltage (2.7 V) and active current consumption (< 3 mA). The IC is available in four packages: 28-lead PDIP, 32-lead, 7x7 mm, Thin Profile Plastic Quad Flat Package (TQFP), 32-pad, 5x5 mm and 4x4 mm, Quad Flat No-Lead/Micro Lead Frame Package (QFN/MLF).



"This novel IC has excellent metrological performance: ±.0005 % relative error in a broad range of measurement from 0.25 Hz to 2 (32 MHz), and wide functionalities (26 measuring modes). It lets to design various sensors systems for smartphones and tablets very easy and quickly", - said Dr. Sergey Y. Yurish, R&D Director of TAB. "Due to advanced design approach and novel technologies we have eliminated existing technological limitations for analog and mixed design inherent to modern CMOS technological processes below 100 nm. This opens a door for increasing smart system integration level and lets to integrate a lot of different sensors into smartphones and tablets by the same manner" - added Dr. Yurish.



Technology Assistance BCNA 2010, S. L. will exhibit on SENSOR+TEST' 2013 Exhibition in Nuremberg, Germany on 14-16 May 2013. Please visit our booth: 12-391 and product presentation 'Smart Sensors for Smartphones: How to Make it Smarter ? ' in Forum Hall 11, Thursday, 16 May 2013 at 13:30.



You can download your individual costfree admission SENSOR+TEST' 2013 ticket at http://www.sensor-test.de/service/sensorticket.php?Fid=51507&Spr=en



Distributors are welcome.



About Technology Assistance BCNA 2010, S. L.

Technology Assistance BCNA 2010, S. L. (TAB) is a high technological company founded in 2010 in Barcelona, Spain. Main products, which are currently introduced to market are Series of Universal Sensors and Transducers Interface (USTI and USTI-EXT), Series of Universal Frequency-to-Digital Converter (UFDC-1 and UFDC-1M-16) integrated circuits, fully function development board EVAL UFDC-1/UFDC-1M-16 and various smart, intelligent sensor systems on its basis.



One of the main objectives of TAB is to introduce a new generation of cost effective smart and intelligent sensing technology and to enter the large application potential in sensor technology. Developed advanced technologies and novel electronics components give a unique opportunity to create and produce various digital sensors, multisensor systems and robust sensor systems with high metrological performances and wide functionalities including such intelligent functions as self-adaptation and self-identification.



The TAB is dedicated not only to continuous enhancement of the existing product range, but also to responding to customer demands and suggestions with a high degree of flexibility and openness. This ensures that all solutions are custom tailored and represent the state-of-the-art in ultra-precise measurement technology for frequency-time parameters of signals.



For more information on TAB products and technology, please visit http://www.techassist2010.com



Technical and Sales Contact:

Technology Assistance BCNA 2010, S. L.

C/Riera de Tena local, nº9 local 4

08014 Barcelona, Spain

Tel.: +34 93 413 7941

E-mail: info@techassist2010.com

Web: http://www.techassist2010.com

More from Agricultural & Farming Products