Sensor improves safety and activation for swinging doors.
Press Release Summary: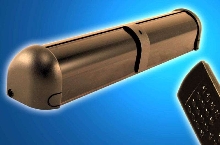 Bodyguard III overhead presence sensor uses diffused active IR sensing to protect entire swing path of automatic swinging doors, from guide rails through to threshold. Rain and snow mode reduces nuisance openings due to misread environmental cues, while learn time feature ensures that objects abandoned inside detection area will not inhibit sensor function. Microprocessor controlled unit can be programmed using BEA Universal remote.
---
Original Press Release:

BEA's Bodyguard III Sensor Improves Safety and Activation for Swinging Doors


Pittsburgh, Pa. (April 29, 2005) - B.E.A., Inc. (BEA), the world's leading manufacturer of sensors for automatic doors, has launched the newest edition of the company's Bodyguard overhead presence sensor. The Bodyguard III combines the same advanced diffused infrared sensing that made the original Bodyguard a popular choice for protection of swinging automatic doors, with new operating features and faster setup.

The Bodyguard III's diffused active infrared technology generates a sensing field that protects the entire swing path of automatic swinging doors, to the guide rails and extending through the threshold. This is the only overhead presence sensor for swinging doors that offers detection through the door threshold. The Bodyguard III exceeds the American National Standards Institute (ANSI) 156.10 standard for safety on swinging doors when paired with either a door-mounted safety sensor or photo beams in guide rails.

BEA has paired this superior detection with new operating features for increased door efficiency and convenience. A new rain and snow mode improves interpretation of contrast between the background and objects within the detection field, reducing nuisance openings due to misread environmental cues. The new tracking feature also reduces unnecessary door activation by disregarding drifting doors caused by wind conditions, stack pressure and loose door arms.

The Bodyguard III is also suitable for use on bi-folding and small rolling industrial doors. Its infinite learn time feature is especially well suited for use in industrial settings, ensuring that objects abandoned inside the area of detection, like pallets and forklifts, will not inhibit sensor function.

Advanced microprocessor controls allow for fast, flexible set up of the Bodyguard III. Door features can be programmed in as little as 3 to 15 seconds using a BEA Universal remote, eliminating the need for ladders and extra set up time. Custom features, like the ability to turn off the threshold row even when the door is open, make the Bodyguard III ideal for all swinging door applications, including double egress door set up. For more information about the Bodyguard III, contact BEA Sales at 1-800-523-2462, sales@beainc.com, or visit the company's website at www.beainc.com.

BEA, a Halma Group Company, is a global provider of automatic door sensing technology for the activation and safety of pedestrian and industrial doors. The company's North American headquarters in Pittsburgh, Pa., features state-of-the-art engineering, production and training facilities, which serve the United States, Canada, Mexico and South America. The company's world headquarters is located in Liege, Belgium, with additional offices in Japan and China.

More from Mechanical Power Transmission