Level Sensors / Detectors / Transducers
Sensor detects scale build-up and lack of liquid.
Press Release Summary: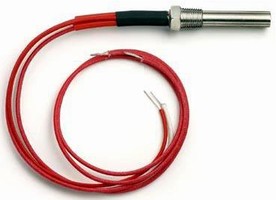 CaGuard scale build-up detection sensor is suited for OEMs serving ware washing, parts washing, and steam application industries. As scale builds up on sensor, controller continuously analyzes temperature output signal. Using feedback diagnostics, sensor works in conjunction with controller to alert operator when cleaning cycles are needed or when element may be experiencing over-temperature situation. Sensor also functions as back-up indicator of no liquid condition.
---
Original Press Release:

Chromalox Introduces CaGuard(TM) -- a New Scale Detection Sensor



Pittsburgh, PA - January 10, 2006 - Chromalox, Inc., the world's leading supplier of electric industrial heaters, is pleased to announce that they are the first in the industry to manufacture an innovative, new scale build-up detection sensor, CaGuard*. This product was developed to solve a problem unique to Original Equipment Manufacturers serving the ware washing, parts washing, and steam application markets.

An OEM typically cannot ensure that their customers will use appropriate water treatment systems, so the equipment they sell is at risk for scale build-up. Over time, poor water conditions cause scale or deposits to accumulate on the heating elements. This scale effectively insulates the heating elements, causing them to overheat and eventually fail.

As scale builds up on the sensor, the controller continuously analyzes the temperature output signal. Using feedback diagnostics, the sensor works in conjunction with the controller to alert the operator when cleaning cycles are necessary, or when an element may be experiencing an over-temperature situation. In addition, the CaGuard scale detection sensor functions as a back-up indicator of "no liquid" condition, averting premature element failure and avoiding the possibility of dry starts.

Scale build up also interferes with sterilization processes by inhibiting the elements' heat transfer capabilities. Subsequently, the process medium or wash fluid doesn't reach the proper sterilization temperature. Scale can also accumulate in sufficient volume to displace water in ware wash booster tanks, causing an insufficient volume of water for pathogen destruction.

The sensor is designed to work with a broad range of controller options from "off the shelf" DIN controllers to custom control platforms configured for specific applications. Chromalox offers a complete range of control products that are compatible with CaGuard to meet customer specific requirements.

*patent pending

For more information, go to www.chromalox.com or contact Chromalox at:

Telephone: 800-443-2640
412-967-3800
Fax: 412-967-5148
Internet: www.chromalox.com
Address: Chromalox, Inc.
103 Gamma Drive
Pittsburgh, PA 15238

About Chromalox, Inc.
For more than 85 years, customers have relied on Chromalox for the utmost in quality and innovative solutions for industrial heating applications. Chromalox manufactures the world's largest and broadest line of electric heat and control products, including heating components, immersion heaters, circulation systems, heat transfer systems, boilers, industrial and comfort air heating, heat trace cables, sensors and precision electronic controls. With multiple manufacturing, engineering, warehousing and sales locations throughout North America and Europe, Chromalox is a global supplier providing the highest level of customer support. Chromalox is headquartered in Pittsburgh, PA.

Products and company names listed herein are trademarks or trade names of their respective companies.

More from Agricultural & Farming Products