Sensors / Detectors / Transducers
Sensor Box Line is available in 3- or 4-pole versions.
Press Release Summary: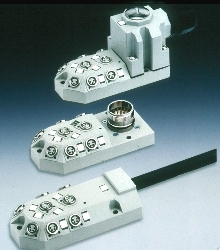 SAI line includes fieldbus active components for Profibus DP, ASI Interface, and CAN Open. Features include bus and power connections through cable glands or metric M23 and M12 (coded B, PB) connections. Distributor base module is available as 4- or 8-channel M12 unit with IP68 or NEMA 6P rating or with IDC quick-fit technology for IP67 or NEMA 6 rating. M12 technology is available as 4- or 5-pole pole version with 1 or 2 cables, respectively.
---
Original Press Release:
Weidmuller's Family of SAI Distributors Is Growing

CHICAGO (March 18, 2002) - Weidmuller's growing range of SAI (Sensor Box) products - passive and fieldbus distributors - provides customers with choices for both modular and decentralized automation applications. The innovative, highly modular SAI line now includes fieldbus active components for Profibus DP, ASI Interface, and CAN Open, with more systems planned for release throughout the year. The Profibus DP sensor box maintains the highly flexible features which comprise the Weidmuller SAI product line: choices of industry standard M12 pluggable or IDC connections, a choice of bus and power connections through cable glands or metric M23 and M12 (coded B, PB) connections for Plug and Play flexibility, and full protection under IP 67 or NEMA 6 for harsh industrial environments. Active SAI distributors for CAN Open or ASI Interface are available, with others in development. Simply plug the electronics onto the SAI-UT base module of the standard SAI-M connection module. Weidmuller is meeting the diverse demands placed on bus connection technology and external supply by mechanical engineers: connect on the spot or plug-and-play.

The distributor base module is available as either a 4- or 8-channel M12 unit with IP68 or NEMA 6P rating or with IDC quick-fit technology for IP67 or NEMA 6 rating. The M12 technology is available as a 4-pole version with a signal cable as well as +/- and ground or as a 5-pole version with an additional signal cable. Base modules with IDC technology are available in 3- or 4-pole versions. The Weidmuller line of sensor boxes includes the only EMC Compliant sensor box on the market, the extremely rugged SAI Metal for complete shielding from sensor to controller in welding applications or analog signal protection in harsh environments. M8 connections in 3- and 4-pole are available on the SAI M8 with an industry standard drill pattern for on-the-fly design changes. The highly unique ergonomic packaging allows for easy installation, individual marking of sensor lines, and group marking for ease of troubleshooting.

The standard M12 base products allow for freedom of choice in bus and power connection: Pre-wired homerun cables made from highly flexible C-Track compatible cables, or field attachable hoods with choice of screw or tension clamp, or metric screw connections with M23 circular connectors. The choice allows for lowering material and installed cost and for last minute design changes.

Cables and cordsets are available, as well as field attachable plugs and sockets for making low cost quick connections. Professional marking using standard size marking tags adds a professional touch for a crisp finished product. Weidmuller's family of sensor actuator interfaces allows for the greatest design flexibility and for the widest choice of environmental conditions, making it the ideal choice for global applications.

Weidmuller, Inc. is the U.S. operation of Germany-based Weidmuller Interface GmbH and Company-the world's leading supplier of electrical connection technology such as terminal blocks, printed circuit board terminals and connectors, relay sockets and plugs, and power supplies. Weidmuller has approximately 3,400 employees worldwide, with 70 sales organizations or offices in more than 60 countries. Weidmuller, Inc. was established in Richmond, Virginia in 1975 and currently employs approximately 130 people in its U.S. operations.

For more information about Weidmuller, Inc. and its products, please contact:

Marketing Communications Manager
Weidmuller, Inc.
821 Southlake Boulevard
Richmond, Virginia 23236
Phone (800) 849-9343
Fax (804) 794-0252
Email info@weidmuller.com
Website www.weidmuller.com
More from Communication Systems & Equipment