Sensor/Actuator Connections for the Pharmaceutical,Food and Beverage Industries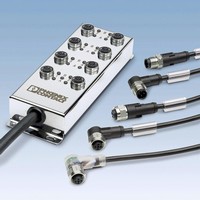 MIDDLETOWN, Pa. - Phoenix Contact now offers a wide variety of sensor/actuator boxes, cables and connectors designed to meet the strict requirements of the pharmaceutical and food and beverage industries.

All metallic components in these industry-specific connectors are made of stainless steel. The smooth surface provided by stainless steel prevents bacteria from forming on the housings and eliminates corrosion concerns during the frequent machine cleanings. The PVC plastics used in the cables and distributor boxes adhere to U.S. Food and Drug Administration (FDA) guidelines. The metals and plastics have been tested for their resistance against common cleaning agents and disinfectants.

The product offering includes connectors for field assembly, wall feed-through and printed circuit board mounting. Sensor/actuator cables supply the connection from sensor/actuator to the junction box. All products meet IP65/68 and IP69K protection categories.

Phoenix Contact is a world leader in electrical connection, electronic interface and industrial automation technologies. A global company with annual sales exceeding 1 billion euro, Phoenix Contact GmbH & Co., Blomberg, Germany, operates 46 international subsidiaries, including Phoenix Contact USA in Middletown, Pa. Phoenix Contact's formal Integrated Management Systems meet International Standards Organization (ISO) quality, environmental and safety requirements (ISO 9001:2000, 14001:2004 and 18001:1999).

For more information on Phoenix Contact's solutions for the food and beverage industry or any Phoenix Contact product, visit www.phoenixcontact.com, or call technical service at 800-322-3225, e-mail info@phoenixcon.com.


Related