Sensor/Accelerometer offers output sensitivity of 400 mV/G.
Press Release Summary: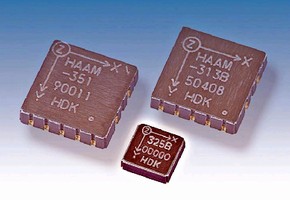 Measuring 3 x 3 x 1 mm with ±2 G acceleration, 3-axis Model HAAM-325B is based on silicon substrate and fabricated using micro-machining MEMS technology. Piezo-resistive unit can detect minute amounts of 3-axis dynamic acceleration in X, Y, and Z axis, and output tilt and gravitational acceleration data simultaneously. Two separate terminals of interrupt output for drop detection and shock detection are provided, in addition to conventional standby terminal.
---
Original Press Release:

World's Smallest Piezo-Resistive Three-Axis Sensor/Accelerometer



HDK-America has announced an incredibly small, piezo-resistive three-axis acceleration sensor. At 3 x 3 x1 mm, the HAAM-325B is the world's smallest 3-axis acceleration sensor. Just 1/5th the size of the previous generation product, it offers fully comparable performance.

Based on a silicon substrate and fabricated by means of a micro-machining MEMS technology, the HAAM-325B has a high-output sensitivity of 400mV/G (Vcc=3V). The device can detect even minute amounts of 3-axis dynamic acceleration in the X, Y and Z axis, and output tilt and gravitational acceleration data simultaneously. Two separate terminals of interrupt output for drop detection and shock detection are now provided, in addition to a conventional standby terminal. This helps to simplify circuit application.

These sensors are well suited for portable consumer or business product applications, especially where a hard drive should be protected from a fall. Typical applications are to protect the hard drive of a laptop computer, MP3 player, instrument or smart cell phone. If a "free-fall" condition is sensed, the HAAM-325B Sensor can signal the hard drive to "lock down" before impact. Acceleration or position can be sensed to trigger other functions, such as a screen change from portrait to landscape or an alarm to call attention to a device being dropped or moved.

Another key feature is the power-saving design, typically consuming just 0.35mA and 1mA in standby. This suits the versatile needs of such products as cell phones, laptops, test instruments and portable medical devices. Other possible applications include the sensing of position, motion or vibration in robotics, material handling, transportation or countless other products.

Rated acceleration is +/- 2G. Output sensitivity is 400 mV/G (at 3V of supply voltage, ratio metric output). Offset voltage is 1.5V +/-0.075V (Ratio-metric to supply voltage). Sensitivity is 20mV/N with a linearity of +/- 3%FS. Operating temperature range is from 0 to +75°C. Shock resistance is 4,000G.

HAAM-325B Three-Axis Sensors are available in sample quantities, at $26 each in sample quantities. For more information, contact HDK America, Inc., 200 N. Northwest Hwy.,
Barrington, IL 60010. Phone 847-382-9411. Fax 847-382-9412. Email: info@hdk-america.com Web: www.hdk-america.com

More from Electrical Equipment & Systems