Vision and Imaging Sensors / Detectors
Sensitivity-Optimized CMOS Image Sensor is suited for smartphones.
Press Release Summary: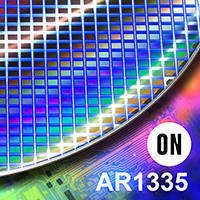 Based on 1.1 micron pixel technology and designed for smartphone camera applications, 13 MP AR1335 offers optimized quantum efficiency and linear full well capacity. Pixel and color filter array processing maximizes sensitivity, allowing capture of more light for optimal image quality even in low-light conditions. Video is supported thorough 4K UHD and Cinema formats at 30 fps and Full HD 1080P at 60 fps, while 32° Chief Ray Angle supports low z-height applications.
---
Original Press Release:

ON Semiconductor Introduces Next Generation 13 Megapixel CMOS Image Sensor with Industry-Leading Sensitivity



New AR1335 device delivers 18 percent better sensitivity than previous generation and exceptional low-light imaging performance for smartphone cameras



Consumer Electronics Show (CES) – LAS VEGAS, Nevada – ON Semiconductor (Nasdaq: ONNN), driving energy efficient innovations, has announced the latest addition to its expansive range of imaging products with the introduction of  its next-generation 13 megapixel (MP) image sensor - the AR1335. Based on advanced 1.1 micron (µm) pixel technology, the AR1335 sets a new benchmark in sensitivity along with dramatic increases in quantum efficiency (QE) and linear full well capacity. Designed specifically for smartphone camera applications, this image sensor delivers a near digital still camera quality experience with power consumption and footprint that are optimized for mobile devices.



ON Semiconductor has developed its innovative 1.1 µm pixel technology for performance smartphone sensors with cutting-edge pixel and color filter array (CFA) processing advancements, which has increased the sensitivity by nearly 20 percent compared to the previous generation. This world-class sensitivity allows for more light to be captured so image quality is significantly improved, especially in low light.



The AR1335 is designed to deliver a great imaging experience for smartphones. With its world-class sensitivity, QE, and linear full well, customers will experience realistic low-light images. Its super-crisp 13MP resolution supports high-quality zoom, and sharp reproduction of scene details. Professional quality video is supported thorough 4K Ultra-High Definition (UHD) and Cinema formats at 30 frames per second (fps) and Full HD 1080P at 60 fps. The high 32-degree Chief Ray Angle (CRA) supports low z-height applications.



"The AR1335 image sensor comes from an intersection of engineering innovation and customer focus," said Shung Chieh, vice president of Consumer Imaging for ON Semiconductor's Image Sensor Group. "Technology improvements, coupled with smart design and optimized production processes, result in a cost effective solution for smartphone manufactures who wish to deliver a full, rich camera experience in their devices."



The AR1335 is in mass production in die format and has been designed into several smartphone models with availability in leading phones expected by the second quarter of 2015.



ON Semiconductor will be demonstrating its latest image sensor technology and products at CES 2015 in Las Vegas from Jan. 6-8. To schedule a private tour of the company's live image sensor demonstrations, please contact your ON Semiconductor sales representative.



About ON Semiconductor

ON Semiconductor (Nasdaq: ONNN) is driving energy efficient innovations, empowering design engineers to reduce global energy use. The company offers a comprehensive portfolio of energy efficient power and signal management, logic, discrete and custom solutions to help customers solve their unique design challenges in automotive, communications, computing, consumer, industrial, LED lighting, medical, military/aerospace and power supply applications. ON Semiconductor operates a responsive, reliable, world-class supply chain and quality program, and a network of manufacturing facilities, sales offices and design centers in key markets throughout North America, Europe, and the Asia Pacific regions. For more information, visit http://www.onsemi.com.



Follow @onsemi on Twitter.



ON Semiconductor and the ON Semiconductor logo are registered trademarks of Semiconductor Components Industries, LLC. All other brand and product names appearing in this document are registered trademarks or trademarks of their respective holders. Although the company references its Web site in this news release, such information on the Web site is not to be incorporated herein.



Contacts



Beth Johnston

Media Relations

ON Semiconductor

(208) 234-6738

beth.johnston@onsemi.com



Parag Agarwal

Senior Director Investor Relations

ON Semiconductor

(602) 244-3437

Parag.Agarwal@onsemi.com



Issued by:

Hannah Hines

Pinnacle Marketing Communications Ltd

Tel: 00 44 (0) 20 8429 6547

Email: h.hines@pinnaclemarcom.com

Web: http://www.pinnacle-marketing.com

More from Non-Industrial Products