Sensata's High Pressure, High Temperature BEI Kimco Motor Earns High Marks in Extreme Validation Testing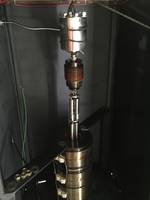 New ruggedized motor to be showcased at OTC 2017
HOUSTON, TX – May 1, 2017 – Sensata Technologies has announced immediate availability of validation test results for its enhanced BEI Kimco Brushless DC (BLDC) Motor DII15-60-201A in a completed Validation Test Report. As substantiated by the testing, the motor can operate reliably under the extreme harsh conditions of oil and gas exploration applications. The Validation Test Report will be available to attendees at the upcoming Offshore Technology Conference, Booth #4519, May 1-4, 2017 at NRG Park in Houston, Texas, where the new motor will be showcased.
The extensive environmental test protocol for the enhanced BEI Kimco model DII15-60-201A High Pressure High Temperature (HPHT) BLDC motor was conducted and certified by two independent Environmental Test Labs, Precision Hermetic Technologies for temperature and pressure testing, and Intertek for shock/vibration testing. These lab tests validated the thermal, pressure, vibration/shock load ratings of the motor throughout its operational life.
The Test Report describes test procedures, test data for each test sequence, certifications achieved, and documents the type of test equipment used throughout the process. The testing validates that the DII15-60-201A can operate reliably under continuous duty in temperatures up to 205 ºC, atmospheric pressures of up to 30,000 psi and shocks/vibrational loads approaching 1000g's/25g's respectively. The 1.5" diameter DII15-60-201A HPHT BLDC motor provides the ideal solution for harsh down-hole applications such as mud pulser valves, caliper deployment and sensor positioning. The robust design also makes it suitable for other severe environmental applications.
The DII15-60-201A incorporates a proprietary integral Hall commutation circuit, and structural enhancements coupled with advanced magnets to support high operating efficiencies and durability. Other variations include custom gearbox interfaces and alternate winding options.
"Upon review of the Validation Test Report, it is evident that the design has been subjected to the rigorous testing necessary to instill confidence that the motor can withstand the harsh conditions of oil and gas applications," says Walter Smith, Applications Engineer. "BEI Kimco's DII15-60-201A motor offers a solution that minimizes the downtime and high costs associated with motor failures."
Contact us or visit www.beikimco.com/hpht to learn more about BEI Kimco's High Pressure High Temperature Motor.
About Sensata Technologies
Sensata Technologies is one of the world's leading suppliers of sensing, electrical protection, control and power management solutions with operations and business centers in thirteen countries. Sensata's products improve safety, efficiency and comfort for millions of people every day in automotive, appliance, aircraft, industrial, military, heavy vehicle, heating, air-conditioning and ventilation, data, telecommunications, recreational vehicle and marine applications. For more information, please visit Sensata's website at www.sensata.com.
About BEI Kimco
BEI Kimco specializes in the design and manufacture of high performance rotary and linear motion components, including Brushless DC Motors and Voice Coil Actuators. These products are designed for applications where performance, precision, and reliability are critical. Using proprietary magnetic design methodologies, BEI Kimco has the ability to produce custom, cost efficient products within multiple manufacturing locations. BEI Kimco is a leader in medical, industrial, aerospace & defense markets.
Sales Contact:
Jorden Harvey
Tel: (760) 597-6313
Email: jorden.harvey@sensata.com
Corporate Media Contact:
Alexia Taxiarchos
(508)236-1761
More from Electrical Equipment & Systems