Semiconductor Assemblies offer range of electronic options.
Press Release Summary: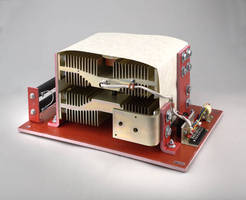 Featuring voltages from 100-20,000 V and currents ranging from 30-3,000 A, Semiconductor Assemblies come in single, double, or 3-phase circuit configurations. Units are also available as full bridge or as series stacks and AC or static switches. Bus bars, gate firing circuits, fuses, snubbers, blowers, and fans are optional. Typical applications include power supplies, AC/DC and static converters, AC phase controllers, UPS, and motor starters.
---
Original Press Release:

Extended Range of Electronic Options for Semiconductor Assemblies



Applied Power Systems, Inc. (APS) is a power engineering and manufacturing company with our primary focus on providing high power solutions and encompasses multiple disciplines, offering mechanical, thermal, and electrical expertise in the design and manufacture of high power systems. Applied Power rounds out its power solutions offerings with assemblies, heat sink kits & clamps.

Now introducing power semiconductor assemblies featuring voltages from 100V to 20,000V & currents ranging 30A to 3,000A. Our product applications include; power supplies, AC / DC & static converters, AC phase controllers, UPS and motor starters to name a few. Circuit configurations available in single, double or three phase styles. Also available as full bridge or as series stacks and AC or static switches. Our power semiconductor assemblies include air or liquid cooled options. Additional full range of options available; bus bar, gate firing circuits, fuses, snubbers, blowers & fans, thermal switches and insulated mouting as well as fiber optic interfaces. Custom versions to fit all engineering applications, just call the experts for technical assistance with a driving force in power electronics.

Complete in-house engineering for all fully assembled and tested power semiconductor assemblies available with ratings up to 30,000 amps, semiconductor heatsink kits & clamps for mounting high power semiconductors, and air cooled heatsinks for mounting hockey pucks & high performance heatsinks for modules, liquid cooled chill blocks with or without tabs.

APS is focused on providing leading edge, high technology solutions for power stages and gate driver boards. Our products include high power Inverter & Converter power blocks and AC Phase Control Power Stages. We offer Gate Driver Circuits & Driver Boards for IGBT, SCR and MOSFET devices, fiber-optic interfaces, high voltage drivers for IGBTs and SCRs, Snubber boards, etc. APS also produces a complete line of high power semiconductor assemblies (air & liquid cooled) and rectifier bridges. We offer a wide range of power conversion systems and custom solutions as well as leading edge power electronics products.

Ask the experts and talk to an APS engineer at: Ph: (516) 935-2230 Fax: (516) 935-2603 Or Email: info@appliedps.com

Please visit our wesite for more details at http://www.appliedps.com/newweb/Assemblies/assemblies1.htm