Semi-Rugged Notebook targets automotive diagnostic industry.
Press Release Summary: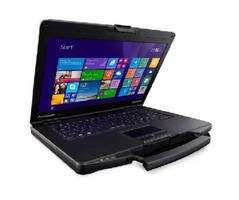 Equipped with 5th Generation Intel® Core™ i5-5300U vPro™ processor, Toughbook CF-54 features 14.0 in. display that comes in HD (1366 x 768), Full HD (1920 x 1080), or Full HD with capacitive multi-touch touchscreen. Unit includes standard LAN port; VGA and HDMI for data projectors, printers, and displays; True Serial port for connection to legacy systems; USB 3.0 and 2.0 ports; and SD card slot. For fast data transfer, wireless LAN a/b/g/n/ac and Bluetooth® v4.0 are included.
---
Original Press Release:

Panasonic Redefines Semi-rugged Notebooks with the Toughbook CF-54



WIESBADEN, GERMANY -- Panasonic has redefined the design of semi-rugged notebooks with the launch of its Toughbook CF-54. Created for workers in the automotive diagnostic industry and field service workers specialising in mainly indoor repairs and maintenance, the new Toughbook CF-54 is the thinnest and lightest** semi-rugged Toughbook in its category and is equipped with the latest 5th Generation Intel® Core™ vPro™ Processor delivering increased performance and lower power consumption.



Breaking the mould for semi-rugged notebooks, the Toughbook CF-54 is approx. 50% thinner and 25% lighter than the current market leader in this category**. Equipped with the new 5th Generation Intel® Core™ i5-5300U vPro™ Processor (3MB cache, 2.3GHz up to 2.9 GHz with Intel® Turbo Boost Technology) which delivers faster computing power, better graphic performance and lower power consumption over its 4th Generation counterpart, the Toughbook CF-54 has all the attributes required to set a new benchmark. For those requiring even higher performance, an Intel® Core™ i7 vPro™ Processor is available as an option.



CF-54 Front

Crystal clear display options

The 14.0" display comes in HD (1366x768), FullHD (1920x1080) or FullHD with capacitive multi-touch touchscreen to offer the clarity and visual detail required by different operatives. There is also an option for a discrete AMD FirePro™ M5100 graphics for even higher graphical display performance. CF-54 comes with the latest Windows 8.1 Pro Update operating system with an option for Windows 7 Professional (available through downgrade rights from Windows 8.1 Pro).



"This latest Toughbook redefines the semi-rugged notebook category," said Jan Kaempfer, General Manager of Marketing for Panasonic Computer Product Solutions. "Its slim design and customisation options combined with its durability make it the new semi-rugged PC benchmark for operatives in automotive, field services, utilities, Telecom and desk-based defence."



The best of Semi-rugged durability

Although a semi-rugged device, the Toughbook CF-54 is the best protected in its category with magnesium plating used on all four-sides, full keyboard and display area spill protection, and a honeycomb-style bonnet to provide maximum protection from impacts. The device can survive drops of up to 76cm. For ease of use, the device comes with its own integral carry handle and as an option can be easily branded with a company logo.



With a single battery life of 11 hours, this workhorse can keep pace with the requirements of today's busy mobile workers and comes with a hot swappable battery option, which means the device can continue working and the battery changed without switching off the device. There is also a possibility to have a 2nd battery* with which a total battery life of up to 18 hours could be obtained.



Comprehensive connectivity and modularity

For mobile workers moving from one location to another, the versatility to connect when on the move is an important consideration. The Toughbook CF-54 comes with the complete range of interfaces including a standard LAN port, VGA* and HDMI for data projectors, printers and displays, a True Serial port* for connection to legacy systems, USB 3.0 and 2.0 ports* and a SD card slot. Wireless LAN a/b/g/n/ac (up to 866 Mbps) and Bluetooth® v4.0 are included for fast data transfer. The device comes with a docking connector for vehicle or desktop mounting and an option for 4G LTE*, dual pass through antenna*, Contactless Smart Card Reader*** and Fingerprint reader***.



This modular Toughbook is also the most configurable semi-rugged notebook to be designed by Panasonic. Thanks to the optional configuration area, a DVD drive or 2nd Battery or PC card slot or USB key or Smart Card Reader could be configured based on customer requirement. In addition, a separate configuration port* is also available which can be used for a 2nd LAN or Rugged USB or dedicated GPS or 4th USB 2.0 port.



The HD model comes with a 500GB HDD as standard and the FullHD models (with and without touchscreen) have 128GB SSD as standard. Camera options include a 2 megapixel webcam* ensuring communications can be carried out in any location or environment. The device also has a backlit* keyboard for easy operation in the dark.



Peace of mind

Every Toughbook comes with a 3-year warranty covering hardware failures for systems used as designed and a 5-year spare part guarantee with a 96-hour repair commitment. Additional upgraded services are available including: Extended Product Warranty (4th/5th year), Accidental Damage Warranty, Battery Warranty (3/4/5 years) and HDD Warranty.



Pricing and availability

The Toughbook CF-54 is available from the end of February 2015 (ex-factory).



Toughbook CF-54 HD Model (with 500GB HDD) – £ 1142 + VAT

Toughbook CF-54 FullHD Model (with 128GB SSD) – £ 1325 + VAT

Toughbook CF-54 FullHD with Touchscreen Model (with 128GB SSD) – £ 1662 + VAT



For further information visit: www.toughbook.eu



* Option

** As of 13th February 2015, in the category of semi-rugged clamshell PC with larger LCD than 13.0"

*** Exclusively configurable by selecting one from Contactless Smart Card Reader and Fingerprint Reader.



About Panasonic System Communications Company Europe (PSCEU)

PSCEU is the European branch of Panasonic Systems Communications Company, the global B2B division of Panasonic. PSCEU's goal is to improve the working lives of business professionals and help their organisations' efficiency and performance. We help organisations capture, compute and communicate all sorts of information: image, voice, and textual data. Products include PBX telephone switches, document printers, professional cameras, projectors, large visual displays, rugged mobile PCs and fire alarms solutions. With around 400 staff, engineering design expertise, global project management capability and a large European partner network, PSCEU offers unrivalled capability in its markets.



PSCEU is made up of four product categories:



Communication Solutions, including professional scanners, multifunctional printers, telephony systems and SIP terminal devices.

Visual System Solutions, including projectors and professional displays. Panasonic offers the widest range of Visual products, and leads the European projector market with 28 % revenue share. (Futuresource B2B market tracking, Q1/2014)

Professional Camera Solutions, including Broadcast & ProAV products, security, fire alarm systems and industrial medical vision (IMV) technology. Panasonic is one of the top two professional camera vendors in Europe.

Computer Product Solutions helps mobile workers improve productivity with its range of Toughbook rugged notebooks, Toughpad business tablets and electronic point of sales (EPOS) systems. As European market leaders, Panasonic Toughbook had a 66.4% revenue share of sales of rugged and durable notebooks and Panasonic Toughpad held a 50.4% revenue share of sales of rugged business tablets in 2013 (VDC Research, March 2014).



Disclaimer:

All brand names shown are the registered trademarks of the relevant companies. All rights reserved.



All working conditions, times and figures quoted are optimum or ideal levels and may differ as a result of individual and local circumstances.



Specifications, product availability and price given herein may be changed at any time without prior notice.



More from Health, Medical, & Dental Supplies and Equipment