Semi-Rigid Closure optimizes wipes packaging.
Press Release Summary: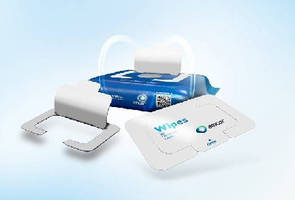 Designed to appeal to both consumers and manufacturers, AmReclose replaces 4 separate components of hard plastic closures with one semi-rigid label. Product offers same one-handed click open motion but in thinner, more portable solution. In addition, AmReclose keeps wipes moist and is fully printable for high impact graphics and branding.
---
Original Press Release:

New Semi-rigid Closure for Wipes Packaging Offers Easy Opening, Better Moisture Retention and Faster Line Speed



Amcor, a global leader in flexible and rigid plastics packaging, and Relieves Egara specialists in labelling solutions, announce an agreement to launch AmReclose, a new wipes closure designed to appeal to both consumers and manufacturers. AmReclose replaces four separate components of hard plastic closures with one, fully printable semi-rigid label that is easy to apply to packs and easy for consumers to use.



The innovative, robust closure system was developed by Relieves Egara to be distributed exclusively by Amcor. "It offers consumers the easy, one-handed click open motion of hard plastic closures in a thinner, more portable solution." said Thomas Fessler, Product Development, Manager Home and Personal Care for Amcor Flexibles. "And in preliminary tests it was more reliable for keeping wipes moist than both soft labels and hard plastic closures."



In addition to improved product protection and convenience, AmReclose can help brand owners create a more appealing package at the point of sale. The AmReclose label is fully printable for higher impact graphics and branding. It also provides up to 60% carbon footprint reduction compared to hard plastic closures, creating a more sustainable pack.



On the manufacturing side, AmReclose brings simplification and faster line speed.  "AmReclose eliminates the need to invest in costly additional machinery, and can typically be used on a customer's existing machine with only minor adjustments," said Josep Gamundi, for Relieves Egara. "Additionally, applying a single semi-rigid label versus the multiple components necessary with hard plastic closures allows customers to run their packing lines at a faster speed, creating efficiency and cost savings."



"Our wipes customers are looking to bring convenience and portability to their consumers, as well as reduce their packaging's carbon footprint.   We are extremely pleased to find a partner in Relieves Egara that helps us meets our customer needs," said Javier Rojo, Vice President Sales and Marketing Amcor Flexibles Europe & Americas.

 

For more information about AmReclose go to: www.amcor.com/AmReclose



About Amcor

Amcor (ASX: AMC) applies art and science to create responsible packaging solutions that enhance the products people use in everyday life.  With global leadership positions in flexibles and rigid plastics packaging, Amcor continually innovates to find new and better ways to protect essential products such as food, beverage, pharmaceutical, medical, personal and household goods. Headquartered in Melbourne, Australia, Amcor employs 27,000 people worldwide and has operations across 43 countries. For more information, visit www.amcor.com



About Relieves Egara

Relieves Egara, focuses on developing labelling solutions to be applied by roll. Our products are specially used in Pharmaceuticals, Home and Personal Care, Promotional and Beverage markets. Relieves Egara integrates an InvestLabel program from 2013 that allows to improve its ranges of products. The environmental concerns motivated the development of EGARAMIGA, a special program based in optimization of processes and minimization of waste. Headquartered in Terrassa, Barcelona. For more information, visit www.regara.com



For further information on AmReclose please contact:



Trevor Davis

Marketing Director Food & Beverage

Tel: +1.312.498.2886

Email: trevor.davis@amcor.com



Cassandra Biehler

Marketing Communications Manager

Email : cassandra.biehler@amcor.com



More from Machinery & Machining Tools