Semi-Flexible Cables facilitate system assembly.
Press Release Summary: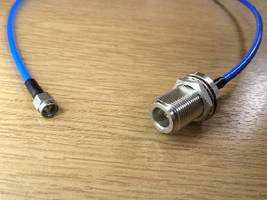 Offering lighter, more flexible alternative to semi-rigid types, Spiral Strip Shielded Coaxial Cables come in 0.085 in. (I405) and 0.141 in.(I402) sizes for industrial, defense, security, and test system applications. Products feature 50 Ω construction and operating temperature of -55 to +200°C. Strip/round braid composite shields minimize transfer impedance levels, while VSWR characteristics meet or exceed similar size flexible constructions.
---
Original Press Release:

Intelliconnect Launches Its Own Brand of Semi-Flexible Cables



The Cable Assembly division of Intelliconnect (Europe) Ltd, the UK based specialist manufacturer of RF connectors, can now provide customers with its own brand of semi-flexible 0.085" (I405) and 0.141" (I402) cables designed to compete with Multiflex, T-Flex and Flexiform cables and suitable for industrial, defence, security and test system applications



Intelliconnect semi-flexible cables offer a lighter, more flexible alternative to semi-rigid types making system assembly and interconnection easier. Any small reductions in performance compared with semi-rigid cables are more than compensated for by competitive pricing and compatibility with standard semi-rigid cable connectors.



Similar to TFLEX 402/405, the Intelliconnect "Spiral Strip" shielded coaxial cables are flexible alternatives to semi-rigid coax and the unique shielding configuration offers a cost effective, low attenuation option. The use of strip/round braid composite shields results in low transfer impedance levels.



The 50 ohm construction exhibits the same attenuation characteristics as M17/130-RG402 and M17/133-RG405 cables. All the Intelliconnect Spiral Strip Shield coaxial cables have VSWR characteristics that meet or exceed similar size flexible constructions. The I402 and I405 cable types have been designed with diameters over the outer braids of 0.141" and 0.086" and have an operating temperature range of -55 to +200°C



Roy Phillips, Managing Director of Intelliconnect, comments," Having our own brand of semi-flexible cables continues our aim of providing high-quality, competitively priced RF and waterproof connectors, cables and cable assemblies with assured sources of supply. We will continue to invest to ensure we have the products our customers require and maintain the product quality and customer service that we are reknown for."



In addition to custom cable assemblies, including cryogenic cables, Intelliconnect (Europe) Ltd manufactures a wide range of standard and custom RF connectors and components, including waterproof and fast turnaround custom designs which are undertaken without NRE charges to their customers. Intelliconnect also manufacture a large range of coaxial adaptors to facilitate inter-series connection and gender change etc.  Typical applications include MIL and aerospace, marine, oil and gas, medical and general microwave markets. For more information call +44(0)1245 347145, email sales@intelliconnect.co.uk or visit www.intelliconnect.co.uk



About Intelliconnect (Europe) Ltd;

Formed in the UK in 2003 in response to the almost complete abandonment of the UK by the RF connector manufacturing industry, Intelliconnect joined forces with a small innovative US operation in 2004 and has quickly become a market leader in design led manufacturing of RF connectors, waterproof multi-pin connectors and cable assemblies. Both the UK and USA divisions of Intelliconnect now enjoy a growing reputation for high quality products and first class service. Their product range includes waterproof connectors which have become established as the solution of choice for specifiers in the marine, oil and gas, defence, medical and general antenna markets. They produce a range of triaxial components which are recognised as the best quality available in the market today. Their Custom design service, which attracts no NRE charges, is the quickest available in the connector industry today. Intelliconnect also offer a full range of standard RF connectors and a cable assembly service.



Intelliconnect is unable and does not wish to compete with the plethora of low-cost offshore product available in the market today. Rather they offer traditional engineering values coupled with innovation, agility and a passion for serving their customers.



For further information contact;

Intelliconnect (Europe) Ltd.

Unit 5 Beehive Business Centre, Beehive Lane, Chelmsford, CM2 9TE

+44(0)1245 347145

sales@intelliconnect.co.uk

www.intelliconnect.co.uk

More from Packaging Products & Equipment