Semi-Automatic Abrasive Saw comes enclosed with 6 in. outlet.
Press Release Summary: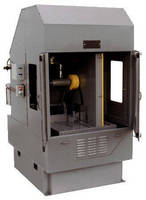 Model K26E 26 in. semi-automatic abrasive saw includes 26 in. wheel, air-over-oil 0-12 fpm power downfeed, 20 hp, 3 PH motor with 1,800 rpm spindle speed, cog belt drive, 1 in. wheel arbor with 7 in. flanges, and cam vise. Enclosed outlet holds dust and abrasive particulate matter generated during cutting. Product has capacities up to 7 in. pipe, 5 in. solids and 8 in. shapes. Optional features included are 30, 40 and 50 hp motors, vacuum dust collector, and door interlocks.
---
Original Press Release:

Kalamazoo Industries Model K26E 26" Enclosed Semi-Automatic Abrasive Saw



The Kalamazoo Industries model K26E 26" semi-automatic abrasive saw is totally enclosed with a 6-inch outlet to effectively contain the dust and abrasive particulate matter produced during cutting.

The K26E saw features a massive 26-inch wheel, an air-over-oil 0-12 FPM power downfeed, a 20 HP, 3 PH motor with an 1800 RPM spindle speed, cog belt drive, 1-inch wheel arbor with 7-inch flanges, cam vise. Capacities are up to 7-inch pipe, 5-inch solids and 8-inch shapes. Options include larger 30,40 and 50 HP motors, wet/coolant system, vacuum dust collector, oscillation and door interlocks.

Contact:
Scott Allen
info@kalamazooindustries.com

Related