Self-Texturing PVC Compounds serve automotive applications.
Press Release Summary: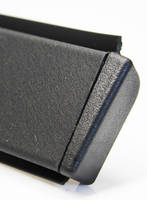 Intended for exterior moldings and trim, Apex® 1545-D40 ST compounds enable direct extrusion of smooth, textured surfaces that remain blemish-free after prolonged outdoor exposure. Typical properties include respective Shore C and D hardness values in 60–70 and 34–44 ranges, specific gravity from 1.37–1.43, tensile strength from 8–18 MPa, and elongation at break from 150%–250%. Products can be coextruded, bond to metal, or offered in custom colors and gloss.
---
Original Press Release:

'SELF-TEXTURING' PVC Compounds for Automotive Exterior Trim Yield Attractive Surface that Stays Uniform Over Time



New Apex® Extrusion Compounds from Teknor Apex Eliminates Need for Secondary Milling or Coating Steps to Produce Smooth, Non-Glossy Appearance



PAWTUCKET, R.I., USA –  New PVC compounds for automotive exterior moldings and trim make possible direct extrusion of smooth, textured surfaces that stay blemish-free after prolonged outdoor exposure, it was announced today by Teknor Apex Company.



The self-texturing capability built into Apex® 1545-D40 ST extrusion compounds makes secondary "texturing" steps such as top-coating or milling unnecessary. The compounds can be coextruded, bond well to metal, and exhibit physical properties comparable to standard PVC. Teknor Apex can provide custom color and gloss matching to many OEM standards, including the various shades of black used across the industry.



Recommended applications for the new products include the roof ditch moldings between roof and body sections, window lace trim between A pillars and windshield, and belt-line body trim. Current OEM approvals for Apex 1545-D40 ST compounds include General Motors GMW 16084 and Chrysler MSDC 543. The compounds are in commercial use on General Motors' 2014 model year K2XX truck platforms.



"New Apex 1545-D40 ST compounds yield a homogeneous, scratch-resistant finish that stands up to the harsh weathering performance requirements of automotive OEMs," said Steve McCormack, automotive industry manager for the Vinyl Division of Teknor Apex. "Teknor Apex can manufacture these compounds to identical specifications globally, making possible localized supply."



Typical property values of Apex 1545-D40 ST compounds include Shore C and D hardness in the 60 to 70 and 34 to 44 ranges, respectively; specific gravity, 1.37 to 1.43; tensile strength, 8 to 18 MPa; and elongation at break, 150 to 250%.



About Teknor Apex. Teknor Apex Company, a privately held firm founded in 1924, is one of the world's leading custom compounders of plastics.  Teknor Apex produces flexible and rigid vinyl, thermoplastic elastomers, nylons, toll and specialty compounds, color masterbatches, specialty chemicals, bioplastics and hoses. The company is headquartered in Pawtucket, RI, U.S.A. and operates thirteen facilities worldwide in the United States, the Netherlands, the United Kingdom, China and Singapore. To learn more visit: www.teknorapex.com.



The Vinyl Division of Teknor Apex Company is a leading manufacturer of compounds based on PVC, including Apex® flexible and rigid vinyl, Flexalloy® vinyl elastomers, Fireguard® low-flame, low-smoke compounds for wire and cable, and BioVinyl™ compounds with bio-based plasticizer. The Division is an international supplier to the appliance, automotive, construction, medical device, wire and cable, and other industries.



READER INQUIRY INFORMATION:  Address all mail inquiries to Teknor Apex, 505 Central Avenue, Pawtucket, RI  02861 U.S.A. Tel: 1-401-725-8000.  Tel. from U.S. only: 1-800-554-9892. Fax: 1-401-729-0166. E-mail: vinyl@teknorapex.com.



Robert J. Martino

Martino Communications Inc.

8 Main Street / P.O. Box 379

Hastings-on-Hudson, NY 10706 U.S.A.

Tel: 1-914-478-0754

Email: bob@martinocommunications.com

www.martinocommunications.com

www.twitter.com/MartinoComms

More from Agricultural & Farming Products