Self-refresh DRAM serves as expanded scratchpad memory.
Press Release Summary: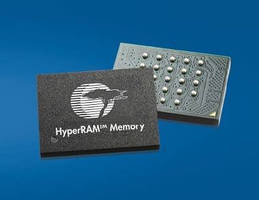 Based on low-pin-count HyperBus™ interface, 64 Mb HyperRAM™ serves as expanded scratchpad memory for rendering of high-resolution graphics or calculations of data-intensive firmware algorithms in automotive, industrial, and consumer applications. Device operates with read/write bandwidth up to 333 MBps and is available in 3 V and 1.8 V supply voltages. When paired with HyperFlash™ NOR Flash memory, HyperRAM offers solution for embedded systems where flash and RAM reside on same 12-pin HyperBus.
---
Original Press Release:

Cypress Simplifies Embedded System Design with New Low-Pin-Count HyperRAM(TM) Memory



Provides the Industry's First Self-refresh DRAM Device with the 12-Pin HyperBus™ Interface; Serves as Expanded Scratchpad Memory for High-Performance Applications



SAN JOSE, Calif., -- Cypress Semiconductor Corp. (Nasdaq: CY), a global leader in embedded system solutions, today announced sampling of a new high-speed, self-refresh Dynamic RAM (DRAM) based on Cypress's low-pin-count HyperBus™ interface. The 64Mb HyperRAM™ serves as an expanded scratchpad memory for rendering of high-resolution graphics or calculations of data-intensive firmware algorithms in a wide array of automotive, industrial and consumer applications. The devices operate with a read/write bandwidth of up to 333 MBps and are available in 3V and 1.8V supply voltage ranges.



When paired with a Cypress HyperFlash™ NOR Flash memory, HyperRAM enables a simple and cost-effective solution for embedded systems where both the flash and RAM reside on the same 12-pin HyperBus. Traditional systems with an SDRAM and Dual-Quad SPI solution require upwards of 41 pins on two buses for data transactions. The HyperRAM and HyperFlash solution reduces pin count by at least 28 pins, decreasing design complexity and lowering PCB cost. HyperRAM is an ideal solution for automotive clusters and infotainment, communication equipment, industrial applications and high-performance consumer products. More information on the 64Mb HyperRAM is available at http://www.cypress.com/hyperram.



"With the rapidly growing usage of high-resolution graphics and data-intensive applications in a wide range of systems, we see a growing need in the market for a simple, high-performance DRAM that provides external scratchpad memory for controllers with limited onboard RAM," said Rainer Hoehler, Vice President of the Flash Business Unit at Cypress. "Our new 64Mb HyperRAM addresses this requirement with the low-pin-count HyperBus interface and its industry-leading read/write bandwidth. In addition to lower PCB cost, HyperRAM lowers MCU costs by reducing the number of pins needed compared with other DRAM solutions."



To accelerate product design cycles, Cypress offers customers and partners a HyperBus Master Interface Controller IP Package. This controller IP helps designers add support for HyperBus to their Field-Programmable Gate Array (FPGA), Application-Specific Integrated Circuit (ASIC) or Application-Specific Standard Product (ASSP) host controller platform. The Controller IP supports both HyperRAM, as well as HyperFlash products, and is free of charge and royalty-free.



Availability

The Cypress 64Mb HyperRAM is sampling now with production beginning in the third quarter of 2016. The devices will be available in a 24-ball, 6-mm by 8-mm ball grid array (BGA) package.



About Cypress HyperFlash Memory

High-density (128Mb to 512Mb) HyperFlash NOR Flash memories deliver the bandwidth required for the highest-performance embedded systems found in automotive instrument clusters, automotive infotainment systems, communication systems and industrial applications. They deliver the highest read bandwidth at 333 MBps, more than four times faster than Quad SPI NOR flash, with one-third the number of pins of parallel NOR flash. More information on HyperFlash is available at www.cypress.com/hyperflash.



About Cypress HyperBus Interface

The efficient 12-pin Cypress HyperBus interface consists of an 8-pin address/data bus, a differential clock (2 signals), one chip select and a read data strobe for the controller, reducing the overall cost of a system. Memories based on the interface enable faster systems with quicker response times and rich user experiences. The Cypress HyperBus interface enables a wide range of high-performance applications, such as automotive instrument clusters, infotainment and navigation systems, handheld displays, digital cameras, projectors, factory automation systems, medical diagnostic equipment, home automation systems and home appliances. More information on Cypress's industry-leading high-performance memory portfolio is available at www.cypress.com/memory.



Follow Cypress Online



Read our Core & Code technical magazine and blog.

Join the Cypress Developer Community.

Follow @CypressSemi on Twitter.

Visit us on Facebook and LinkedIn.

Watch Cypress videos on our Video Library or YouTube.



About Cypress

Founded in 1982, Cypress is the leader in advanced embedded system solutions for the world's most innovative automotive, industrial, home automation and appliances, consumer electronics and medical products. Cypress's programmable systems-on-chip, general-purpose microcontrollers, analog ICs, wireless and USB-based connectivity solutions and reliable, high-performance memories help engineers design differentiated products and get them to market first. Cypress is committed to providing customers with the best support and engineering resources on the planet enabling innovators and out-of-the-box thinkers to disrupt markets and create new product categories in record time. To learn more, go to www.cypress.com.



Cypress and the Cypress logo are registered trademarks and HyperRAM, HyperBus and HyperFlash are trademarks of Cypress Semiconductor Corp. All other trademarks are property of their owners.



CONTACT: Samer Bahou, Cypress PR, (408) 232-4552, samer.bahou@cypress.com

More from Architectural & Civil Engineering Products