Self-Lubricating Graphite Plugged Bronze Sleeve Bushings Now Available Online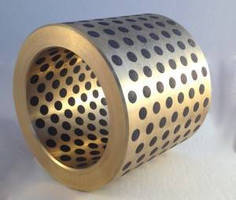 In response to the growing demand for the graphite plugged bushing product line, we are happy to announce that the entire line of standard size graphite plugged sleeve bushings are available for purchase online at www.bronzebushings.com. Hundreds of industry standard size sleeve bushings are listed in both inch and metric standard sizes.  These products are inventoried for quick shipment. 



"Traditionally this was a custom product line for us, for which we did not carry any inventory and only manufactured upon receipt of an order from our customers," stated Michael Russo VP Business Development National Bronze Mfg. Co. "The growth in demand from our customers for this product line forced us to look at our stocking policy for these products and adjust to better serve our customer base" Russo states.  "By offering these products through our online store at www.bronzebushings.com we make the entire process even easier for our customers.  With the new offerings we are able to deliver a finished product to our customers in 1-2 days where in the past the lead time was at least 2 weeks.  Initial feedback has been very positive and we are constantly looking for new ways to raise our level of service that we offer our customers."



The self-lubricating  graphite plugged bronze sleeve bushings are machined from continuous cast bronze bar stock.  They are then milled and plugged with solid lubricant graphite based plugs.  The plugged graphite bushings are great for applications where maintenance is difficult and where normal grease and oil based lubricants can burn off due to high temperatures.  The cast bronze base material gives these products stronger bearing abilities when compared to other self lubricating bronze bushings.



The self-lubricating graphite plugged bronze sleeve bushings can be found at the following links:



http://www.bronzebushings.com/plug-graphite-bushings/plug-graphite-sleeves.html



About National Bronze Mfg. Co.



National Bronze Mfg. is a leading manufacturer and supplier of bronze based products. Since 1911 National Bronze Mfg. has been one the largest manufacturers of bronze bushings, bearings, and other industrial components. National Bronze Mfg. is also a full metal service center supplying bronze, brass, and copper bar stock to manufacturers worldwide. With an expertise in copper alloy based product National Bronze Mfg. services customers in a wide variety of industries.



More from Materials