Self-Leveling Chocks eliminate soft foot.
Press Release Summary: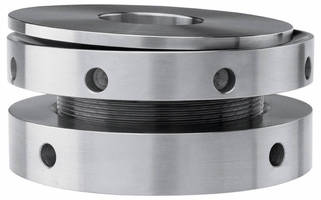 Self-leveling and height-adjustable, SKF Vibracon Chocks enable accurate mounting of rotating machinery to base frames, steel foundations, or plates while eliminating improper contact between machine casing and baseplate used to support it. Mechanical chocks compensate for angular misalignment of up to 4° between mounting foundation and bottom of machine foot. In addition to standard and extended chocking heights from 30–250 mm, units come in low-profile versions from 20–45 mm.
---
Original Press Release:

SKF Vibracon Self-Leveling, Height Adjustable Chocks Enable Easy Mounting of Rotating Machinery while Curing Soft Foot



SKF Vibracon self-leveling and height adjustable chocks enable easy and accurate mounting of rotating machinery to base frames, steel foundations, or plates while eliminating Soft Foot (improper contact between a machine casing and the baseplate used to support it).  Applications for rotating equipment range from industrial and marine to offshore.  These mechanical chocks effectively compensate for angular misalignment of up to four degrees between the mounting foundation and bottom of the machine foot.  This ultimately eliminates Soft Foot and allows for optimal and economical mounting without requiring expensive machining of skid bases and milled blocks, trial and error guesswork of regular shims, or the extra labor and curing time associated with epoxy resin chocks.



The unique design of the SKF Vibracon integrates a spherical top plate and mating middle section that is threaded and screws into a threaded bottom ring. The swiveling action of the top plate self-levels the Vibracon, thereby accommodating for the angular differences inherent with mounting surfaces and maximizing the contact surface between the foundation, chock, and machine foot. The vertical adjustment feature offers a wide range of adjustability to compensate for the chocking height of the equipment.  These features allow for quick and easy installation with minimal down-time.  In combination, the self-leveling and height adjustment capabilities effectively eliminate Soft Foot.



Vibracon chocks can be supplied in a wide range of configurations, standard and extended chocking heights (ranging from 30mm to 250mm), footprint diameters (60mm to 250mm), and materials including carbon steel, treated carbon steel, stainless steel, alloy steel, shock hardened, and K-Monel.  Low-profile versions (with chocking heights from 20mm to 45mm and footprint diameters from 80mm to 190mm) can cost-effectively support repair projects or fixed design systems by serving as replacements for milled chocks, shims, or epoxy resins.  Custom-made Vibracon chocks are also available for non-typical applications.



Contact: SKF USA Inc., 3443 North Sam Houston Parkway West Building 4, Suite, 100, Houston, TX 77086.  Tel: 281-925-2847.  Email: vibracon.usa@skf.com   Web link: www.vibracon.com



SKF is a leading global supplier of bearings, seals, mechatronics, lubrication systems, and services which include technical support, maintenance and reliability services, engineering consulting and training. SKF is represented in more than 130 countries and has around 15,000 distributor locations worldwide. Annual sales in 2013 were SEK 63,597 million and the number of employees was 48,401. www.skf.com



(Vibracon is a registered trademark of SKF® and Monel is a registered trademark of Special Metals Corporation)

Related