Self-Healing Ethernet Switch ensures 3-level redundancy.
Press Release Summary: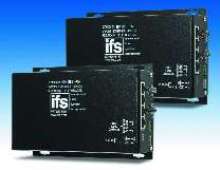 When equipped in ring with 4 or more units, Series D7400WDM-RSH offers 3 levels of redundancy. In event of fiber failure, unit automatically reroutes Ethernet data to other fiber in less than 1 sec, insuring uninterrupted transmission. Switch provides point-to-point transmission of three 10/100 Mbps Ethernet data signals over one multimode or single-mode optical fiber, with fourth port operating as trunking port. LEDs indicate when primary or secondary loop is operating.
---
Original Press Release:

IFS Introduces Redundant Self-Healing Ethernet Switch


IFS D7400WDM RSH Ensures Three Level Redundancy for Fiber Based Ethernet Network

Newtown, CT. June 30, 2004, - International Fiber Systems Incorporated (IFS), a leading manufacturer of fiber optic transmission equipment, has announced the introduction of its D7400WDM-RSH Series 3-Port Ethernet Switch, a new model within the D7400 Series. The IFS D7400WDM-RSH, when equipped in a ring with four or more individual units offers three levels of redundancy in the event of a fiber failure. In the event of a fiber failure the D7400WDM-RSH automatically re-routes the Ethernet data on to the other fiber in less than a second insuring uninterrupted transmission. The D7400WDM-RSH has the capability for faster recovery because it utilizes a trunking port to effectively re-route Ethernet data on to other fibers. This switch will provide point-to-point transmission of three 10/100 mbps Ethernet data signals over one multimode or single mode optical fiber with the fourth port operating as the trunking port. Each model features contact closure and LEDs to tell the user when the primary or secondary loop is operating.

The IFS D7400WDM-RSH Ethernet Switch provides three (3) RJ-45 ports independently configured for 10 or 100Mbps automatically using auto-sensing technology built in to the switch. In addition, each port provides a MDI/MDIX auto cross feature that detects whether a "straight through" or "crossover" cable is plugged into the port helping to correct errors in cable selection. The combination of these two features provides easy, "Plug and Play" installation.

The IFS D7400WDM-RSH can also be used to increase the transmission distance of traditional Ethernet copper-based cabling networks by utilizing two (2) optical ports to connect multiple D7400 switches providing additional redundant connections through a point-to-point architecture. "Transmitting Ethernet over fiber optics with this device has an effective range of up to 37 miles. That is far more effective than a Category 5 structured cable wiring systems, where the distance is limited to 300 feet per segment and requires additional equipment for extended distances." Said Steve Rutkowski, IFS Product Manager. Applications such as corporate data networks, access control systems, Video over IP and other systems requiring extended distance in transmitting Ethernet and need a redundant system to ensure consistent operation, that can not be handled by Category 5 cabling is where the D7400WDM-RSH series will be the best solution.

"With the convergence of computer and data networking with modern security and ITS applications, consultants and dealers were looking for solutions from IFS and we've responded to those requests." Said Dave Sinise, ITS Sales Manager. "We at IFS see an increasing demand for Ethernet over optical fiber based networks. The D7400WDM-RSH was designed for applications such as outdoor-traffic signaling networks, where video and traffic control data need to be transported long distance, and industrial security and factory automation where problems such as EMI/RFI interference and harsh out-of-plant conditions are always a problem."

All models of the D7400 Series are designed to be environmentally hardened for use in harsh out-of-plant environments that are common with security and ITS applications. Like all IFS products, it has an operating temperature range of between -40 degreesC._to + 74 degrees C.

Like all IFS products, the IFS D7400 Series features plug and play design that ensures easy installation without needing any electrical or optical adjustments. And like all IFS products, they are backed by an exclusive Comprehensive Lifetime Product Warranty.

About International Fiber Systems
Part of GE Security, Inc., IFS is at the forefront of advances in fiber optic technologies. The company offers more than 300 analog and digital fiber optic products for commercial and industrial applications, which include CCTV, access control, data transmission, fire and alarm system applications, intelligent transportation systems, facility and building automation, and broadcast systems.

For more information, please contact Skip Haight at 203.426.1180; or e-mail IFS at sales@ifs.com. You may also find IFS on the World Wide Web at www.ifs.com. Electronic files of this release and photos of these products are available by contacting the IFS Marketing Department via e-mail at skiph@ifs.com.

About GE Security, Inc.
GE Security, part of GE Infrastructure, is a wholly owned subsidiary of the General Electric Company (NYSE: GE) focused on communication and information technologies for security, safety and lifestyle enhancements. GE Security has operations in more than 30 countries and is represented by some of the best-known brand names for intrusion and fire detection, access and building control, video surveillance, explosive and drug detection, key management and structured wiring. For more information about GE Security, please visit www.GE-Security.com.

IFS and the IFS logo are registered trademarks of International Fiber Systems, Incorporated. Additional Company and product names may be trademarks or registered trademarks of the individual companies and are respectfully acknowledged.

More from Agricultural & Farming Products