Self-Encrypting SSD serve security-oriented applications.
Press Release Summary: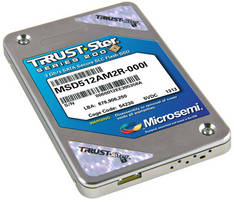 Powered by Armor™ processor, TRRUST-Stor™ Series 200 includes 256 GB 2.5 in. SATA SSD that operates at sustained rates of 200 MBps. Full hardware-based erase takes <8 sec, users can load encryption keys, and TRRUST-Purge™ technology destroys keys in <30 msec when activated. Featuring in-line encryptor with hardware-implemented AES 256 encryption using XTS block cipher mode, SSD offers non-volatile storage via SLC NAND flash and withstands up to 3000G shock and 30 Grms vibration.
---
Original Press Release:

Microsemi Unveils New Family of High-Security, Self-Encrypting Solid State Drives



New 256GB, 200MB/s TRRUST-Stor(TM) Series 200 SATA SSD Shipping to Customers



ALISO VIEJO, Calif. -- Microsemi Corporation (Nasdaq: MSCC), a leading provider of semiconductor solutions differentiated by power, security, reliability and performance, today announced a next-generation family of self-encrypting solid state drives (SSDs) for applications requiring superior data security, outstanding reliability, ruggedization, large storage capacity and high sustained data throughput rates. The first new product in the TRRUST-Stor(TM) Series 200 family is a 256 gigabyte (GB) 2.5" SATA SSD that operates at sustained rates of 200 megabytes per second (MB/s). The company has secured multiple design-wins for its new Series 200 SSD and initial shipments to customers are underway.



TRRUST-Stor Series 200 SSDs are ideal for high bandwidth land-, air-, and ship-based video streaming and surveillance applications where recording every second of data is important. The high capacity Series 200 also provides ample storage for imaging applications such as those used in UAVs and vetronics.



"Our new Series 200 SSDs deliver the exceptional speed, capacity and unmatched security features required to meet growing demand for high-bandwidth, read-write drives used in data-sensitive applications," said BJ Heggli, vice president of strategic development and assistant general manager for Microsemi. "We will continue to execute on our product roadmap to deliver industry-leading solid state drives that match our customers' security, storage and performance requirements."



The TRRUST-Stor Series 200 is powered by Microsemi's second generation Armor(TM) processor. A full hardware-based erase takes less than eight seconds, the fastest erase time on the market. The Series 200 SSDs also offer the ability to load encryption keys. Customers can input their own AES-256 keys, purge them and re-load as needed. Microsemi's TRRUST-Purge(TM) technology destroys keys in less than 30 milliseconds when activated.



The self-encrypting drive (SED) features a built-in compact in-line encryptor with hardware-implemented AES 256 encryption using the XTS block cipher mode.



TRRUST-Stor Series 200 Features:



--  Capacity:  256 GB non-volatile storage using reliable, long-life SLC NAND flash

--  Performance:  200 MB/s sustained reads and writes

--  Encryption: Hardware-based implementation of AES-256 encryption with XTS, protecting sensitive data

--  Security: Flexible key management with loadable AES encryption keys. Optional hardware-based authentication enables higher levels of security. The TRRUST-Purge function erases the keys in under 30ms, rendering data forensically unrecoverable.

--  DMEA Trusted Facility: U.S.-made with full BOM and manufacturing control

--  Fast Erase Capability: Hardware-based fast clear of the entire drive occurs in less than eight seconds

--  High-reliability: Developed to endure harsh environments, TRRUST-Stor SSD's ruggedized specifications allow the disk drive to withstand up to 3000G shock and 30 Grms of vibration.

--  Obsolescence Management: Leveraging Microsemi Armor flash management processor and IP, product obsolescence is mitigated.



For more information on TRRUST-Stor products please email sales.support@microsemi.com.



About Microsemi

Microsemi Corporation (Nasdaq: MSCC) offers a comprehensive portfolio of semiconductor and system solutions for communications, defense & security, aerospace and industrial markets. Products include high-performance, radiation-hardened and highly reliable analog mixed-signal integrated circuits, FPGAs, SoCs and ASICs; power management products; timing and voice processing devices; RF solutions; discrete components; security technologies and scalable anti-tamper products; Power-over-Ethernet ICs and midspans; as well as custom design capabilities and services. Microsemi is headquartered in Aliso Viejo, Calif., and has approximately 3,000 employees globally. Learn more at www.microsemi.com.



Microsemi and the Microsemi logo are registered trademarks or service marks of Microsemi Corporation and/or its affiliates. Third-party trademarks and service marks mentioned herein are the property of their respective owners.



CONTACT: Gwen Carlson, Director of Corporate Communications, +1-949-380-6135, or Beth P. Quezada, Communications Specialist, +1-949-380-6102, press@microsemi.com

More from Sensors, Monitors & Transducers