Self-Contained Sleeve Pack features foot-activated lock.
Press Release Summary: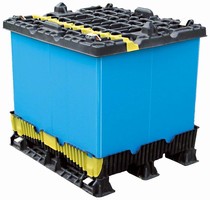 Returnable packaging solution, Step-Pak(TM), has ergonomic foot locking/unlocking system on deck of pallet. With 2 mechanisms placed on opposite sides, ABS latches lock/unlock system components without requiring operators to bend over. Each component locks firmly together - set up or knocked down - to account for pallet, sleeve, and lid at all times. Solution knocks down to 12.5 in. and is available with up to 1,000 x 1,200 mm footprint, 36 in. sleeve height, and 42 in. total assembled height.
---
Original Press Release:

New Self-Contained Sleeve Pack From Universal Package Systems Features Patented Foot Activated Locking/Unlocking System



DALE, IN (August 23, 2007) - The new Step-Pak(TM) from Universal Package Systems is a returnable sleeve pack packaging solution that features an ergonomically designed and patented foot locking/unlocking system. It's also designed to be completely self-contained, with each component firmly locking together whether it's set up or knocked down. This keeps the pallet, sleeve and lid together at all times, reducing loss, separation or damage to the components.

The foot operated lock/unlock mechanisms are located on the deck of the pallet, two each on opposite sides, and are used to lock and unlock the components of the system without the need to bend over. This can reduce back strain and injuries. These ergonomically designed latches are made of durable ABS plastic and are easily field replaceable if broken. Users simply press down on the latch with their foot to lock the components of the Step-Pak, and lift with their foot to unlock them.

To knock the system down, the system is unlocked by raising the foot latch, the plastic corrugated sleeve "Z" folds down and fits inside the base of the pack. This protects it during shipping, keeps it cleaner and extends its usable life. The lid is then placed on top and locked to the outer walls of the pallet by stepping down on the foot latches. The Step-Pack knocks down to approximately 12.5" in height.

To set the system up, the foot pedals are used to unlock the components from one another and the lid is removed. The sleeve pack is then unfolded and placed into grooves formed in pallet. The four foot operated locking latches are pressed down to lock the sleeve, securing the sleeve to the pallet. The lid is then placed on top of the sleeve pack and locked in place with four hand operated latches.

The pallet base and lid are constructed of .250 gauge thermoformed HDPD with optional steel inserts for added rigidity and weight capacity. While a standard Step-Pak unit is available with a 1000mm x 1200mm, footprint, 36" sleeve height, 42" total assembled height, and collapsed height of 12.5", the sleeve can be fabricated to fit individual requirements.

For more information on the Step-Pak, contact Universal Package Systems, 21219 North US Highway 231, Dale, IN. 1-866-875-9918. Fax: (812) 937-9852. www.UniversalPackage.com

More from Mechanical Power Transmission