Self Contained Pallet has foot-activated locking design.
Press Release Summary: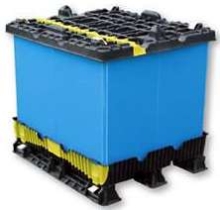 Designed to minimize space required for warehousing and shipping, StepPak employs locking mechanisms that keeps pallet, lid, and sleeve together at all times. Plastic corrugated sleeve, Z, folds in to fit into base of pack, and 4 latches on deck of pallet lock sleeve in place. Lid is attached to outer wall of pallet. Complete whether knocked down or set up, unit may be fabricated to fit individual requirements for capacity, material, and color.
---
Original Press Release:

Self Contained Pallet, Lid & Sleeve with Foot Activated Locking Design Maximizes Utilization of Space


StepPak's patented locking mechanisms make it a very easy process to keep the pallet, lid & sleeve together at all times with no more bending over or fighting slide locks and the unit is complete whether knocked down or set up. The StepPak minimizes space required for warehousing and shipping.

The plastic corrugated sleeve "Z" folds in to fit into the base of the pack. This allows the sleeve to be protected upon its return shipment, creating a cleaner and longer life for the sleeve. The lid is attached to the outer wall of the pallet with our locking system to keep the unit together as a pack. No more lost sleeve, cover or base.

When setting up the StepPak, you remove the lid, unfold the sleeve, place it in grooves formed in the pallet, step on the 4 latches located on the deck of the pallet to lock the sleeve in place. Once the sleeve is in place, cover the pack with the lid. Latch the 4 locks located on top of the lid and you have a solid sleeve pack.

The StepPak can be fabricated to fit individual requirements including, capacity, material and color.

Universal Package Systems is located in Dale, IN. We are an engineering, design and custom manufacturing plant serving all manufacturing and service industries.

For more information, please contact:

Jim Davis, Vice-President
Universal Package Systems, Inc.
209 W. Medcalf
Dale, IN, Zip Code 47523
Phone 812-937-3605
Fax 812-937-9852
Cell 502-664-1024
sales@universalpackage.com
www.universalpackage.com

More from Automatic ID