Self-Contained Auger Compactor processes wet and dry waste.
Press Release Summary: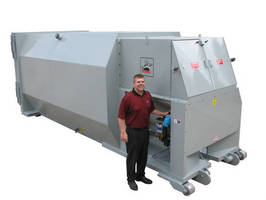 Enclosed EMSC Auger Pak features sealed processing chamber that provides clean path for wet and dry waste directly to receiver section. Unit's electromechanically driven auger screw shreds and compacts waste with more than 56,000 lb of force, while continuous forward action prevents drag-back waste accumulation. Running on electric power, it can be unplugged for dumping, and offers capacities from 20-35 cu yd. It is suited for processing liquid, semi-liquid, and solid waste.
---
Original Press Release:

New Self-Contained Auger Compactor Processes Wet Waste Cleanly



Users of conventional hydraulic ram self-contained compactors can experience problems with unsanitary waste buildup in the ram compartment and leakage of pressurized hydraulic fluid. These concerns not only increase maintenance costs, but also create safety, environmental, and local health authority issues.

The new EMSC "Auger Pak" from Komar Industries is a totally enclosed compactor with a tightly sealed processing chamber that provides a clean path for wet and dry waste directly to the receiver section. The electro-mechanically driven auger screw shreds and compacts waste with more than 56,000 lbs. of force. It is the only self-contained compactor that can shred standard wood pallets along with wet waste. Compared to the back-and-forth motion of ram compactors, its continuous forward action prevents "drag-back" waste accumulation, saves up to 200% in energy costs, and reduces processing time.

The Auger Pak runs solely on electric power, eliminating the extra maintenance and hazardous oil leaks commonly experienced with hydraulic systems. When the EMSC unit is ready for dumping, power is simply unplugged, as opposed to the disconnecting of pressurized hoses which inevitably sprays fluid.

With capacities from 20 to 35 cu. yd., the Auger Pak is well suited for generators of large amounts of liquid, semi-liquid and solid waste, including hospitals, shopping malls, supermarkets, food processors, schools, large restaurants, prisons, hotels/casinos, and other institutions.

For more information, contact: Komar Industries, Inc. 4425 Marketing Place, Groveport, OH 43125 Tel: (614) 836-2366, Fax: (614) 836-9870 E-mail: info@komarindustries.com On the Web at HYPERLINK "http://komarindustries.com" www.komarindustries.com.

Related