Self-Clinching Studs provide high-strength attachment.
Press Release Summary: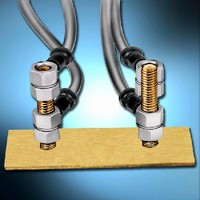 Suited for applications demanding optimal electrical/mechanical attachment points in copper, PEM® HFHB BUSBAR® studs install permanently in copper sheets as thin as .050 in. Phosphor bronze fasteners feature external threads and are RoHS-compliant. When properly installed, pushout values up to 560 lb and torque-out values up to 18 lb-ft can be realized. Available in lengths up to 2.00 in., studs come in thread sizes of #10-32 through 3/8-16 and M5-M10.
---
Original Press Release:

Offering Twice The Conductivity Of Carbon Steel Studs



PEM® TYPE HFHB BUSBAR® CLINCH STUDS PROVIDE SUPERIOR ELECTRICAL/MECHANICAL ATTACHMENT

PEM® Type HFHB BUSBAR® self-clinching studs can ideally satisfy applications demanding superior electrical/mechanical attachment points in copper. These phosphor bronze externally threaded fasteners offer twice the conductivity of conventional carbon steel studs. The RoHS-compliant studs can install permanently in copper sheets as thin as .050"/1.3mm and have been engineered for high-strength attachment applications. When they are properly installed, pushout values up to 560 lbs./1115N and torque-out values up to 18 ft. lbs./25Nom can be realized, depending on the fastener's thread size and thickness of the host copper sheet.

Improved pull through resistance is enabled by their large-head design, which allows the stud's head to project above the sheet material and distribute the axial tightening force over a wide area.

Installation is easily accomplished by placing the studs in punched or drilled holes in the copper sheet and squeezing them using any standard press. Sufficient squeezing force embeds ribs on the head of the stud into the sheet to permanently lock the fastener in place. The studs become an integral part of an assembly.

Thread sizes for PEM Type HFHB BUSBAR clinch studs range from #10-32 through 3/8-16 and M5 through M10. Studs can be specified in a variety of lengths up to 2.00"/50mm.
Complete specifications including electrical resistance data and CAD drawings (in most formats) for these fasteners are available free for downloading from www.pemnet.com

Contact Michael J. Rossi, PennEngineering®, 5190 Old Easton Road, Danboro, PA 18916-1000 USA. Phones: 800-237-4736 (toll-free in the U.S.) or 215-766-8853; Fax: 215-766-0143. Web site: www.pemnet.com


More from Construction Equipment and Supplies