Self-Clinching Studs attach thin metal assemblies.
Press Release Summary: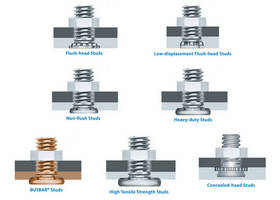 Designed to install permanently using standard press, PEM® Self-Clinching Threaded Studs include flush-head models for use in aluminum or stainless steel sheets as thin as .040 in. and stainless versions for corrosion resistance in even thinner stainless steel assemblies. Other types include low-displacement flush head studs for close-to-edge installation; non-flush studs for sheets as thin as .020 in.; and heavy-duty studs whose heads project above sheet to distribute axial tightening force.
---
Original Press Release:
Introducing Complete Line of Studs for Thin Metal Assemblies
PEM® SELF-CLINCHING THREADED STUDS IN VARIOUS DESIGNS OFFER APPLICATION-SPECIFIC BENEFITS FOR ATTACHMENT

PEM® self-clinching threaded studs in an expanding range of designs introduce ideal solutions offering application-specific benefits for thin metal attachments.  All types of PEM studs provide cost-effective and practical alternatives to weld studs or other joining methods by enabling easier installation with fewer production steps and more reliable performance in service.  They install quickly, securely, and permanently using a standard press.

The product lineup includes types of flush-head studs (whose heads will be flush with the sheet in which they are mounted) for use in aluminum or steel sheets as thin as .040" / 1mm and stainless versions offering optimum corrosion resistance in even thinner stainless steel assemblies; low-displacement flush head studs for effective close-to-edge installation; non-flush studs for sheets as thin as .020" / 0.51mm; heavy-duty studs whose heads project above the thin host sheet to distribute axial tightening force over a larger area and improve pull through resistance; BUSBAR® studs functioning as superior electrical/mechanical attachment points; high tensile strength studs whose medium carbon alloy steel is heat-treated for high strength and hardness to withstand application demands; and concealed-head studs where the sheet opposite installation will remain smooth and unmarred.

PEM self-clinching threaded studs are available in a variety of materials and lengths.  Optional features include a dog point lead-in to promote quick location of the mating fastener and MAThread® anti cross-thread technology allowing threads to self-align and drive easily.

Detailed specifications, animations, CAD models, and performance data (Bulletin FH or Bulletin CH for concealed-head types) can be accessed at www.pemnet.com

Contact Michael J. Rossi, PennEngineering®, 5190 Old Easton Road, Danboro, PA 18916-1000 USA.  Tel: 800-237-4736 (toll-free in the U.S.) or 215-766-8853; Fax: 215-766-0143.  Web site:  www.pemnet.com
More from Fasteners & Hardware