Self-Clinching Nuts facilitate mating-hole alignment.
Press Release Summary: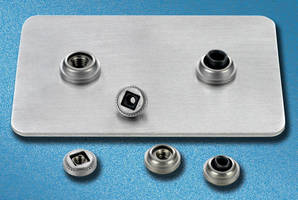 PEM® floating self-clinching nuts, which include non-locking Type A4 nuts with free running load-bearing threads as well as self-locking Type LA4 nuts with prevailing torque locking threads, install in stainless sheets as thin as .038 in. and greater with Rockwell B hardness of HRB 88 or less. Design permits up to .015 in. min float in all directions from center, and ability of fastener threads to extend fully into their retainer shank imparts strength and support in assembly.
---
Original Press Release:

PEM® Floating Self-Clinching Nuts Designed for Stainless Assemblies Enable Easier Mating-Hole Alignment in Relaxed Tolerance Applications



PEM® floating self-clinching nuts for stainless steel assemblies enable easier mating-hole alignment to promote design flexibility in relaxed tolerance applications.  These fasteners from PennEngineering® can be specified either with non-locking or self-locking threads and will permit up to .015" / 0.38mm minimum float in all directions from center.  Their unique engineering further imparts added strength and support in an assembly by permitting fastener threads to extend fully into their retainer shank.



This family of fasteners includes non-locking Type A4 nuts (with free running load-bearing threads) and self-locking Type LA4 nuts (with prevailing torque locking threads).  They will install and perform reliably in stainless sheets as thin as .038" / .97mm and greater with hardness of HRB 88 or less on the Rockwell "B" scale.  Available thread sizes for both types range from #4-40 through #10-32 and M3 through M5.



The nuts install easily and quickly by squeezing them into properly sized holes using a PEMSERTER® press or other standard equipment to develop sufficient force.  The fasteners then clinch permanently into place with the side opposite the fastener remaining flush.  Ultimately, they become an integral part of a stainless assembly, provide re-usable load-bearing threads to accept mating hardware, and exhibit high torque-out and pushout resistances in service.



Detailed specifications, CAD models, and performance data (Bulletin ALA) for these RoHS-compliant nuts can be accessed at www.pemnet.com



Contact Michael J. Rossi, PennEngineering®, 5190 Old Easton Road, Danboro, PA 18916-1000 USA.  Phones: 800-237-4736 (toll-free in the U.S.) or 215-766-8853; Fax: 215-766-0143.  Web site:  www.pemnet.com

More from Fasteners & Hardware