Self-Clinching Flush Nuts install without protrusions.
Press Release Summary: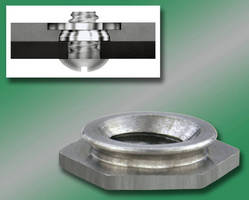 PEMSERT® self-clinching flush nuts are designed for attachment applications where thin metal sheets can benefit from introduction of strong load-bearing threads without protrusions being created on either side. Upon permanent installation in aluminum or steel sheets as thin as .060 in., top and bottom of sheet remain flush. Metal displaced by hexagonal head flows evenly and smoothly around back-tapered shank of fastener to securely lock nut permanently into place.
---
Original Press Release:

Providing Strong Load-Bearing Threads for Mating Hardware: PEMSERT® Self-Clinching Flush Nuts for Thin Metal Sheets Install Without Protrusions on Either Surface



PEMSERT® self-clinching flush nuts introduce ideal solutions for attachment applications where thin metal sheets can benefit from the introduction of strong load-bearing threads without creating any protrusions on either side.  Upon their permanent installation in aluminum or steel sheets as thin as .060" / 1.5mm, both the top and bottom of the sheet remain flush with only a single mating screw required for final component attachment.



These Type F self-clinching nuts particularly can be installed flush before bending or forming operations get under way without risking potential interference problems that protruding fasteners could cause down the line.



Installation is accomplished easily by preparing a properly sized round mounting hole in the sheet, placing the shank of the fastener into the hole, and applying sufficient squeezing force to embed the nut's unique hexagonal head flush in the sheet.  The metal displaced by the head then flows evenly and smoothly around the back-tapered shank of the fastener to securely lock the nut permanently into place.  The hexagonal head and self-clinching design ultimately ensure high axial and torsional strength.



PEMSERT Type F self-clinching flush nuts are manufactured from 300 Series stainless steel in thread sizes #2-56 to ¼-20 / M2 to M6 and can be ordered to conform with US NASM45938/4 aerospace standards.  Detailed specifications, CAD models, and performance data (Bulletin F) for these RoHS-compliant fasteners can be accessed at www.pemnet.com



Contact Michael J. Rossi, PennEngineering®, 5190 Old Easton Road, Danboro, PA 18916-1000 USA.  Phones: 800-237-4736 (toll-free in the U.S.) or 215-766-8853; Fax: 215-766-0143.  Web site:  www.pemnet.com

More from Fasteners & Hardware