Self-Clinching Flush-Head Studs meet corrosion resistance needs.
Press Release Summary: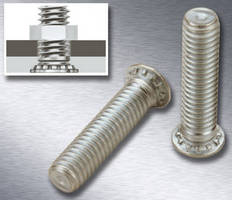 For attachment applications requiring corrosion resistance, PEM® Type FHP™ self-clinching flush-head studs are manufactured from A286 stainless steel and install permanently into stainless steel sheets as thin as .040 in. Products mount flush and permanently, becoming integral parts of assembly with only mating nut required for final component attachment. Studs can be supplied in thread sizes No. 4–40 through No. 10–32 and M3–M5 and in range of 10 standard lengths.
---
Original Press Release:

Easier and Less Costly to Install than Weld Studs: Pem® Self-Clinching Flush-Head Studs; Ideal Solutions for Thin Stainless Steel Assemblies



PEM® Type FHP™ self-clinching flush-head studs install permanently into thin stainless steel sheets to provide ideal solutions for attachment applications requiring superior corrosion resistance.  They will install easier and at less cost than weld studs and additionally can contribute to thinner and lighter designs for component assemblies in the medical, foodservice, and marine industries, among many others.



PEM Type FHP flush-head studs mount flush and permanently in stainless steel sheets as thin as .040" / 1mm (and greater) and become integral parts of an assembly with only a mating nut required for final component attachment.  Their manufacture from A286 stainless steel imparts high hardness and the studs can be specified reliably for use in stainless sheets with hardness of 92 or less on the Rockwell "B" scale.



PEM Type FHP flush-head clinch studs can be supplied in thread sizes #4-40 through #10-32 and M3 through M5 and in a range of 10 standard lengths.



Detailed specifications, CAD models, and performance data (Bulletin FH) for these RoHS-compliant fasteners can be accessed at www.pemnet.com



Contact Michael J. Rossi, PennEngineering®, 5190 Old Easton Road, Danboro, PA 18916-1000 USA.  Phones: 800-237-4736 (toll-free in the U.S.) and 215-766-8853; Fax: 215-766-0143. Web site: www.pemnet.com

More from Fasteners & Hardware