Self-Clinching Fasteners enable sheet-to-sheet attachment.
Press Release Summary: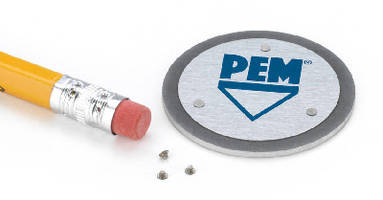 Designed for installation into stainless steel or higher-strength aluminum alloy sheets, microPEM® TackPin® Type T4™ Self-clinching Fasteners are suited for electronic assemblies where disassembly will not be required. Units feature interference fit to minimize hole tolerance issues, tapered tip to assist in location, and low-profile head. Manufactured from 400 Series stainless steel, fasteners eliminate screw-related issues, such as cross threading, torque control, and vibration back-out.
---
Original Press Release:

New Patented microPEM® TackPin® Type T4(TM) Self-Clinching Fasteners Introduced for Stainless Steel or Higher-Strength Aluminum Alloy Sheets



New patented microPEM® TackPin® Type T4™ self-clinching fasteners have been introduced by PennEngineering® as ideal hardware solutions for installation into stainless steel or higher-strength aluminum alloy sheets.  This latest addition to the microPEM family of fasteners enables sheet-to-sheet attachment for a wide range of applications in compact electronic assemblies wherever disassembly will not be required.  They offer tangible benefits over micro screws by eliminating typical screw-related issues, including costly tapping, cross threading, torque control, and vibration back-out, and further provide designers with practical alternatives to welds or adhesives.  Ultimately, microPEM Type T4 fasteners will promote quick and cost-effective installation, even automatically for high volume applications, using minimal hardware.



Noteworthy fastener design features include an interference fit to minimize hole tolerance issues, a tapered tip to assist in location, and a low-profile head to save space.



Manufactured from 400 Series stainless steel, microPEM Type T4 fasteners install easily by first preparing properly sized mounting holes in the sheet to be attached and the base panel.  After inserting the fastener into these holes, squeezing force is applied to complete the installation process.  The fastener's head will then hold the top sheet (as thin as 0.2 mm / .008") firmly and permanently in place.  The base panel can be as hard as HRB 88 or less on the Rockwell "B" scale and at least 0.89 mm / .035" in thickness.



Detailed specifications, CAD models, installation animations, and performance data (Bulletin T4) for these RoHS-compliant fasteners can be accessed at www.pemnet.com



Contact Michael J. Rossi, PennEngineering®, 5190 Old Easton Road, Danboro, PA 18916-1000 USA.  Phones: 800-237-4736 (toll-free in the U.S.) or 215-766-8853; Fax: 215-766-0143. Web site: www.pemnet.com

More from Fasteners & Hardware