Self-Clinching Fasteners allow flush-mount attachments.
Press Release Summary: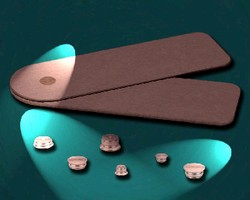 Offering alternative to rivets or welding, stainless steel PEM® Type SFP SpotFast(TM) Fasteners permanently join 2 metal sheets to create corrosion-resistant flush-attachment connection without protrusions on either side. Rotational capability enables single fastener to act as hardened pivot point. Available in various head diameters and sizes, RoHS-compliant fasteners can be installed in stainless steel sheets as thin as .030 in. with Rockwell B hardness of 88 or less.
---
Original Press Release:

PEM Spotfast Stainless Self-Clinching Fasteners Resist Corrosion in Flush-Mount Applications



New PEM® SpotFast(TM) stainless steel self-clinching fasteners ideally suit flush-mount attachment applications where corrosion resistance may be required. These fasteners permanently join two metal sheets to create a flush-attachment connection without protrusions on either side and can serve as practical alternatives for rivets or welding. Their rotational capability extends application potential by enabling a single fastener to act as a hardened pivot point.

The fasteners (Type SFP) are made from precipitation hardened stainless steel and can be installed in stainless steel sheets as thin as .030"/0.8mm with hardness of 88 or less on the Rockwell "B" scale. They join a growing family of uniquely engineered SpotFast hardware.

Fasteners install smooth with the top sheet and flush, sub-flush, or blind with the bottom sheet. They can attach two metal sheets too thin to weld; fasten sheets of unequal thicknesses; or join dissimilar metals unable to be welded. When used as a pivot point, the top sheet is effectively captivated between the head of the fastener and the lower (non-rotating) sheet. The top sheet then is able to rotate freely.

Unlike rivets that "bulb" during installation, the flush profile upon their installation allows for unobtrusive attachment requiring minimal space. A smooth surface is retained for finishing and fasteners can be concealed easily with paints or powder coatings.

Stainless SpotFast fasteners are RoHS-compliant and available in various head diameters and sizes. CAD drawings (in most formats) are available free for downloading from www.pemnet.com

Contact Michael J. Rossi, PennEngineering®, 5190 Old Easton Road, Danboro, PA 18916-1000 USA. Phones: 800-237-4736 (toll-free in the U.S.) or 215-766-8853; Fax: 215-766-0143. Web site: www.pemnet.com


More from Fasteners & Hardware