Self-Clinching Captive Panel Screws minimize parts count.
Press Release Summary: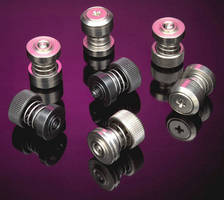 Facilitating efficient handling and installation, PEM® Types PF50™ and PF60™ fasteners integrate captive screw in spring-loaded assembly. Permanent mounting in metal assemblies as thin as .030 in. eliminates risks associated with loose hardware that could fall out and potentially cause damage to internal components. When tightened, fastener protrudes .340 in. from top of the sheet, and Phillips recess enables captive screws to be tightened or loosened.
---
Original Press Release:

Self-Clinching Fastener Solutions: PEM® Types PF50(TM) and PF60(TM) Captive Panel Screws Minimize Parts Count and Enable Easy Access to Components



PEM® Types PF50™ and PF60™ self-clinching captive panel screws keep hardware parts count to a minimum by integrating a captive screw in a spring-loaded assembly to promote easy and efficient handling and installation.  Their permanent mounting in thin metal assemblies additionally eliminates any risks associated with loose hardware that could fall out, get lost, or misplaced and potentially cause damage to internal components.  These fastener solutions ideally suit panels, covers, drawers, racks, and other access points where secure attachment and subsequent access will be necessary.



Their low-profile design minimizes protrusion on front panels to satisfy particular functional and cosmetic requirements. When tightened, the fastener (depending on size) will protrude only .340"/8.64mm from the top of the sheet.



PEM Types PF50 and PF60 captive panel screws feature a Phillips recess as standard to enable their captive screws to be tightened or loosened simply using a Phillips screwdriver.  (A Torx® recess can be specified.)  Their large heads (knurled or smooth knobs, depending on type) further allow for operation by hand without tools.



These steel fasteners install permanently in aluminum or steel panels as thin as .030"/0.8mm and are offered in multiple screw lengths with thread sizes from #4-40 through ¼-20 and M3 through M6. They can be engineered with MAThread® anti cross-thread technology and can be customized with a scratch-proof DuraBlack™ finish.



Detailed specifications, installation animation, CAD models, and performance data (Bulletin PF) for these RoHS-compliant fasteners can be accessed at www.pemnet.com



Contact Michael J. Rossi, PennEngineering®, 5190 Old Easton Road, Danboro, PA 18916-1000 USA.  Phones: 800-237-4736 or 215-766-8853; Fax: 215-766-0143.  Web site: www.pemnet.com

More from Fasteners & Hardware