Gas and Chemical Sensors / Detectors
Self-Cleaning pH/ORP Sensor suits water/wastewater treatment.
Press Release Summary: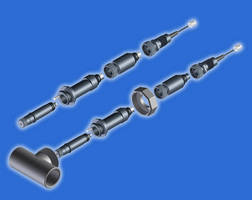 Model S8000 pH/ORP sensor features electrode that can be used in tank submersion or in-line mounting applications to measure pH, HF resistant pH, ORP, or low ionic pH. Electrode incorporates double-junction ERP technology to protect reference in presence of ions such as proteins, silver, and sulfide. Operating in temperatures from 0-100°C de-rated under pressure, sensor electrode measures pH range from 0-14 at pressures of 0-100 psig de-rated under temperature.
---
Original Press Release:
Modular, Self-Cleaning S8000 pH/ORP System Cuts Maintenance and Lowers Ownership Costs
Plug-N-Play System for Municipal or Industrial Plant Water/Wastewater Treatment Garden Grove, CA - Combining a next-generation flat surface self-cleaning pH/ORP (REDOX) sensor along with modular mounting hardware and optional electronics, the flexible S8000 pH/ORP Platform from Sensorex delivers precise measurement with reduced maintenance and a low cost-of-ownership. The advanced S8000 pH/ORP Platform is a fully configurable system designed to reduce the cost of pH/ORP measurement in water/wastewater treatment applications. It allows users to purchase only the components they need initially, but allows them to expand measurement capability to meet changing plant requirements over time. It can even cut the number of spare sensors needed, reducing re-order processing labor and sensor expense. The S8000 provides accurate and repeatable pH/ORP measurement in water treatment systems, which ensures plant effluent meets local, state and federal water quality standards. Precise pH/ORP measurement protects water resources, supports water re-use efforts and helps avoid costly system or plant shutdowns. The same Sensorex S8000 pH/ORP electrode can be used in either tank submersion or in-line mounting applications to measure pH, HF resistant pH, ORP (REDOX) or low ionic pH. This next-generation electrode incorporates Sensorex's double junction ERP technology, which provides a complex path to protect the reference in the presence of interacting ions such as proteins, silver and sulfides that interact with silver or chloride. High temperature reference gels also protect against thermal breakdown. The rugged S8000 sensor cartridge features Ryton® (PPS) parts and Viton® seals in a chemically resistant body to ensure consistently accurate measurements in harsh environments. The proven flat surface self-cleaning technology means less maintenance throughout the life of the product, especially in turbulent flow. The S8000 sensor electrode measures a pH range from 0-14 (0-12.3 pH with low Na+ ion error) at a pressure range of 0-100 psig de-rated under temperature. It operates over a temperature range of 0-100°C de-rated under pressure or 0-80°C when mounted in flow cell or 0-70°C with an electronic module. The optional ORP Redox Electrode measures -1000mV to +1000mV. The optional HF resistant pH electrode measures 0-12 pH at 0-50°C. The S8000 platform includes a choice of mounting interface hardware for tank submersion or inline installation. A full line of interface and adapter modules is available, including with or without solution grounds and automatic temperature compensation. These options include an adapter for Sensorex customers utilizing the S650CD submersion system with S653 or S653TC cap/cables to transition to the S8000CD electrode. Optional electronic modules for applications requiring more than a direct electrode output are available for battery powered unity gain amplification (to extend signal distance), for a battery-powered differential amplifier (to solve ground loop issues and extend signal distance) and for a blind two-wire 4-20mA transmitter. A direct electrode output can be easily changed to 4-20mA signal by installing a module between the interface and cap cable. Cap/cables utilize an 8-pin connector and are available in two standard lengths, 10 and 25 feet. For plant systems requiring more than a blind fixed 4-20mA plug-in output signal module, Sensorex has developed the TX100 pH/ORP Transmitter. This device features a full display, zero and span digital calibration, isolated 4-20mA output, ATC capabilities, rangeability and more. It is designed for wall, pipe or panel mount. It is compatible with programmable logic controllers (PLCs) and other 4-20mA input equipment. Sensorex
Sensorex was founded in 1972 to manufacture quality sensors for water applications. The company today is a leader in sensor technologies and systems, manufacturing more than 2,000 different sensor packages. Our mission is to provide customers with quality pH, ORP, Conductivity, Dissolved Oxygen, Free Chlorine, Chlorine Dioxide, and other specialty sensors as well as a full line of sensor accessories and knowledgeable customer service. Web: www.sensorex.com
Email: info@sensorex.com
Tel: 714.895.4344
Fax: 714.894.4839
Address: Sensorex, 11751 Markon Drive, Garden Grove, CA 92841
Randy Brown: 909-335-1941
Email: brownr@rbmarketing.com
More from Machinery & Machining Tools