Self-Cleaning Liquid Filter has crevice-free design.
Press Release Summary: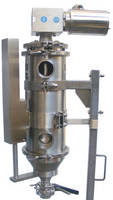 To meet demands of food and pharmaceutical industries, Russell Hygiene Filter(TM) is designed in accordance with hygienic machinery standard BS EN ISO 14159:2008 and food contact regulation EU1935/2004. Crevice-free filter does not require any tools for cleaning or maintenance and dismantles completely by one operator. Featuring reusable, reduced crevice filter element, fully enclosed, self-cleaning product continuously removes oversize contamination as fine as 10 microns.
---
Original Press Release:

Russell Finex introduce the Hygiene Filter(TM)



The Russell Hygiene Filter(TM) is a specifically designed self-cleaning liquid filter to meet the demands of the food and pharmaceutical industries, where product quality cannot be compromised. Utilizing the latest manufacturing techniques and applying key industry standards makes it the highest specification filter on the market.

This filter has been designed in accordance with the hygienic machinery standard BS EN ISO 14159:2008 and food contact regulation EU1935/2004 to provide a high-clean, fully crevice free filter for uncompromised cleaning between batches. Every component has been carefully designed to eliminate all crevices and bug traps to allow for sanitary standard cleaning. In addition, all product contact parts are polished to less than 0.6Ra as standard (0.1Ra is available if required) providing a superior finish.

The Russell Hygiene Filter(TM) requires no tools for cleaning or maintenance and dismantles completely enabling one operator to disassemble the filter quickly. This increases the productivity of operators and the filtration process. The filter is also fully enclosed preventing airborne contamination and safeguarding the health and safety of operators.

In addition to its sanitary design, the Russell Hygiene Filter® also incorporates the unique self-cleaning design of the Russell Eco Filter®. This enables continuous removal of oversize contamination as fine as 10 micron, achieved by continuously cleaning the apertures of the filter element. As a result, this saves money by successfully removing oversize product and ensuring minimal loss of good product. Also, unlike traditional bag or cartridge filters it uses a reusable, reduced crevice filter element, which eliminates the cost and environmental implications associated with replacement filter media. For more information, please visit www.russellfinex.com or e-mail sales@russellfinexinc.com

http://www.russellfinex.com/blog/2011/11/07/the-russell-hygiene-filter/

More from Transportation Industry Products