Self Checkout Products facilitate efficient self-service.
Press Release Summary: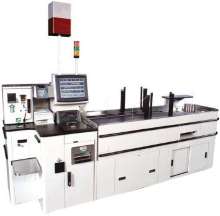 Secure self checkout solutions facilitate self service and interface with other IBM retail front-end solutions. Full-Lane option, 4845-170, consists of conveyor-based unit with full-lane 48 in. bagging feature. Express plus option, 4845-150, offers weight-based security and handles express-sized orders of 8-12 items. Express option, 4845-130, handles 4 items or less in environments that do not require security. It has single bagging rack and product shelf.
---
Original Press Release:

IBM Self Checkout Solution Offers a Flexible and Complete Line of Self Checkout Products that Provide the Convenience Consumers Crave and the Reliability Retailers Need


Overview

Intuitive and easy-to-use, the IBM Self Checkout products are designed to work well in virtually any store format. These secure, reliable self checkout solutions can help improve customer satisfaction, build loyalty, and meet the growing demand for fast self service. Versatile design options meet a wide range of store-specific requirements and allow retailers to choose the right solution to optimize total capacity and maximize ROI.

IBM Self Checkout leverages IBM's three-decade leadership in the retail industry and is a key component of IBM's Retail on Demand strategy. It has broad application across multiple segments and is designed to interface with IBM's other retail front-end solutions. Implemented across the grocery and supermarket segment, the IBM solution is also being installed in warehouse clubs and mass merchandisers and is beginning to penetrate the drug chain / convenience store segment.

Three options of IBM Self Checkout are currently available:

Full-Lane option (4845-170)

This conveyor-based option provides retailers with the ability to handle any size order, any time to drive usage in large and small format stores. It features combined weight and dimensional security that is exclusive to IBM Self Checkout systems. Model 170 comes standard with the Full-Lane 48-inch bagging feature.

Express plus (4845-150)

The Express plus option, sometimes referred to as the "scan-and-bag" solution, offers retailers added flexibility with its lower cost and compact footprint. This option, with weight-based security, serves the front-end need for processing smaller express-sized orders (8-12 items). Model 150 comes standard with the Express plus (tiered 2-bagger right/left) feature.

Express (4845-130)

The Express option offers the most compact footprint for those retailers with minimal security concerns. This option is ideal for handling small-sized orders (4 items or less) in an environment that does not require security. Well suited for small store formats, the Express option has the smallest footprint possible. The Express solution comes standard with a single bagging rack and a product shelf.

Planned availability date

June 25, 2004

At a glance

· Integration environment
- Direct integration with a wide variety of POS applications
- Remote support capabilities via 24/7 Help Desk and PC Anywhere
· Product-line features
- Modular self checkout options with multiple bagging selections
- Intuitive, user-friendly touch screen interface, and helpful audio and video instructions
- Integration with a wide variety of customer-furnished pinpads, scanner/scales, lane lights, and electronic marketing
- Built-in security features that are exclusive to the IBM Self Checkout systems
· Core self checkout module containing:
- Bill and coin acceptors and dispensers
- Drop-in coupon collector with sensor
- Built-in signature capture device
- IBM SureMark(TM) Printer Model TI4 with check franking and MICR read capability
- Transaction awareness light
- Icon-based lookup screens for non-barcoded items
- IBM SurePoint(TM) 15-inch high-resolution flat panel color touchscreen display
- Proximity sensor that activates welcome audio
- IBM SurePOS(TM) 700 (721)

More from Electronic Components & Devices