Self-Centering 5-Axis Vise offers max rigidity, clamping force.
Press Release Summary: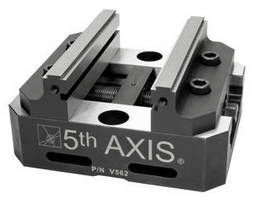 Hard milled and precision ground V562, designed to offer maximum rigidity and clamping force, delivers 5,000 lb of clamping force at 30 lb-ft torque and provides access to 5 sides of workpiece. Along with built-in 45° dovetail, features include gripper teeth that bite into stock without requiring stamping unit, heat treated steel construction, and centering accuracy of .0005 in. Removable/reversible master jaws allow for .05–6 in. clamping range.
---
Original Press Release:
5th Axis® Introduces New V562 Self-Centering 5 Axis Vise
San Diego, California: 5th Axis Inc announces the introduction of its newest V562 self-centering 5 axis vise.  Designed to be the most low profile and compact self-centering vise on the market, the V562 offers maximum rigidity and clamping force in a compact package.

The V562 is ideal for all 5-axis machining operations.  Its compact foot print also makes it a nice solution for 4th axis verticals and horizontals.

The V562 pumps out 5,000 lbs. of clamping force at 30 ft. lbs. of torque. It provides access to 5 sides of the work piece, features a built in 45 degree dovetail, and gripper teeth that bite into stock without the need for a stamping unit.

Built from heat treated steel, the V562 is hard milled and precision ground to exacting standards.  With a centering accuracy of .0005", it is one of the most accurate vises available.

The removable / reversible master jaws allow for an increased clamping range .05" – 6".  The jaws are simple to remove allowing for quick changeover with custom / soft jaws.

When we designed the V562, our goal was to have quick and easy alignment features.  Two counter bored holes allow for easy mounting with standard ½-13 bolts.  We also utilize a threaded centering hole and two optional clocking holes at 2" and 50mm.

Features of the V562:  Heat treated / precision ground body, coated lead screw for lubricity and wear resistance, removable / reversible jaws offer increased clamping range, threaded center and clocking holes accept locating pins of all different diameters, gripper teeth bite into stock without the need to prep material, built in optional 45 degree dovetail offers increased clamping force, end stops and work stops are available.

5th Axis Inc
7140 Engineer Rd.
San Diego, CA 92111
Phone 858-505-0432
Fax 858-505-9344
Website: www.fifthaxis.com 
Email: sales@fifthaxis.com
More from Fluid & Gas Flow Equipment