Self-Adjusting Stainless Steel Hose Clamp provides 360° seal.
Press Release Summary: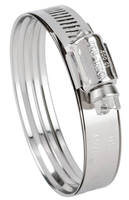 Providing spring compensation over 360°, SMARTSEAL™ constant pressure clamps are suited for use in environments prone to temperature extremes and vibration. Integrated 2-piece design includes clamp assembly and SmartLiner with channel. While clamp grips by deeply penetrating into hose wall over narrow cross-section, roundness eliminates leak paths, and trough shaped design creates optimal pressure loading. Smooth liner is suited for softer hose.
---
Original Press Release:
SMARTSEAL(TM) -Self-Adjusting, Constant Pressure Stainless Steel Clamp with 360° Spring Compensation by IDEAL-TRIDON®.
The last clamp you'll ever need.

Smyrna, Tennessee — Ideal Clamp Products, Inc. would like to introduce their innovative self-adjusting SMARTSEAL™ stainless steel hose clamps.  IDEAL-TRIDON® has spent decades engineering the world's best clamping products, SMARTSEAL™ clamp systems are engineered to last longer and perform better than traditional hose clamps in the most demanding environments such as temperature extremes and vibrations.  You'll want to get your hands on these and see the incredible design first hand.

With its integrated two-piece design, the clamp assembly and the SmartLiner with channel design, SMARTSEAL™ provides spring compensation over 360 degrees.  That's right, a self-adjusting clamp that provides a 360 degree seal!  The improved clamp roundness eliminates leak paths and the exclusive trough shaped design creates higher pressure loading compared to conventional worm gear clamps.  SMARTSEAL ™ is not your conventional clamp as it "grips" by penetrating deeper into the hose wall over a narrower cross-section (footprint).   The smooth liner is great for softer hose.  Please visit idealtridon.com/aftermarket/smartseal/smartseal-37215/ for details on this must have product.

Applications include radiators, turbo charged applications, solar panels, vehicle HVAC, pipe fluid connectors, generators, home appliances, tractors/trucks, most vehicle fluid applications, and other uses for clamping.

About Ideal:  Ideal is a leading global engineering solutions designer and manufacturer of stainless steel worm gear and specialty clamps for auto, heavy duty, industrial, plumbing, marine and specialty clamps used in a broad range of fastening and sealing applications.  The IDEAL-TRIDON brand is manufactured and distributed globally from facilities in North America, Europe, and Asia.  Customers worldwide count on Ideal-Tridon to seal critical connections.  Shouldn't you?  After all, they've provided "PROVEN DESIGNS, BILLIONS OF TIMES".
Related