Rubber Injection Molding Services
Self-Adhesive LIMS are used in silicone-to-plastic molding.
Press Release Summary: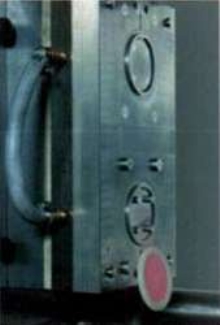 Shin-Etsu Selective Self-Adhesive Liquid Injection Molding Systems (LIMS) provide primerless adhesion to variety of thermoplastic resins. Series KE2090 and KE2095 facilitate production of multi-component products with silicone rubber bonded to plastic using insert overmolding or co-injection molding. Formulations adhere to thermoplastic substrate, but not to metal surfaces of mold, and exhibit hardness from 30-70 Shore-A and viscosities from 400-970 Pa.S.
---
Original Press Release:

New Selective Self-Adhesive LIMS Ideal for Silicone-to-Plastic Molding


Akron, OH: Shincor Silicones has recently introduced a new Shin-Etsu line of Selective Self-Adhesive LIMS that provide primerless adhesion to a variety of thermoplastic resins. Customers may benefit from utilizing these products in Automotive, Consumer Goods, and Healthcare applications

The new KE2090 and KE2095 series LIMS were developed for both silicone and plastic molders who are producing multi-component products with silicone rubber bonded to plastic using either insert overmolding or co-injection (2-shot) molding.

The new LIMS formulations were engineered to adhere to the thermoplastic substrate, but not to the metal surfaces of the mold. A short curing time yields a chemical bond, producing a firmly integrated composite part; no primer or pre-treatment of the substrate is required. Adhesion tests have resulted in 100% cohesive failure, meaning that the silicone tore before the adhesive bond broke.

In addition to excellent adhesion and rapid cure times, the new LIMS also demonstrate outstanding bond strength under extreme conditions of high temperature (120° C), high humidity (85° C/85% RH) and thermal cycling (-40°C to 120°C).

The KE2090 series was developed for adhesion to PC, PBT and PRO compounds, while the KE2095 series functions with PA (6,6 nylon and 6-nylon) and PPA resins.

The products have been tested by an independent laboratory and have been found to comply with USP Class VI regulatory standards.

The new selective self-adhesive product line offers hardness ranges from 30 to 70, Shore-A, and viscosities from 400 to 970 Pa.S. A full range of physical properties and processing data is available in Shincor's new LIMS Product Selection Guide.

For more information please contact Eric Bishop at (513) 232-8917 or [email protected]