Self-Adhered Membrane incorporates RIPCORD(TM) technology.
Press Release Summary: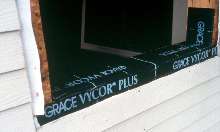 Available in widths of 6, 9, and 12 in., Grace Vycor® Plus flashing membrane contains a cord embedded in adhesive layer that splits release paper in half. Product protects structures from water infiltration and reduces risk of rot and mold development. Composed of cross-laminated, high-density polyethylene sheet backed by pressure-sensitive, rubberized, asphalt adhesive, product seals around fasteners to form water-tight laps.
---
Original Press Release:
Grace Construction Products Enhances Grace Vycor® Plus with RIPCORD(TM) Technology
Embedded Split-Release Cord Provides Long-Lasting Waterproofing Protection for Structures CAMBRIDGE, Mass. - August 12, 2003 - Grace Construction Products (GCP), a world leader in the construction products industry, announces that its Grace Vycor® Plus self-adhered flashing membrane is now available with RIPCORD(TM), Grace's unique patented technology that provides "split release on demand." RIPCORD is a cord embedded in the adhesive layer, allowing the split of the release paper in half. It simplifies the flashing installation procedures and offers superior flashing performance by enabling proper integration of the flashing with other key moisture protection elements of the wall. RIPCORD ensures a proper flashing sequence since half the membrane can be installed before the remaining building envelop components are in place. Grace Vycor Plus protects structures from water infiltration and reduces the risk of rot and mold development. It is composed of a durable, cross-laminated, high-density polyethylene sheet, backed by an aggressive pressure-sensitive rubberized asphalt adhesive. "Rot and mold repairs are major concerns for homebuilders, contractors, architects and homeowners," said Bob Sorrentino, vice president and general manager, Grace Construction Products. "Grace Vycor Plus self-adhered flashing with RIPCORD provides an easier integration process with other weather-resistant barrier products. Construction teams now can leverage this technology to build more durable structures and reduce costly call-backs for repairs." Grace Vycor Plus includes superior adhesion capabilities, seals around fasteners, forms water-tight laps, includes measure markings for accurate installation, provides excellent waterproofing protection, and is highly conformable and flexible. It can be used for window and door openings, deck-to-wall intersections, corner boards, wall-to-wall tie-ins, foundation sill plates, sheathing panel seams, under stucco finishes, masonry walls, and other non-roof detail areas. Grace Vycor Plus with RIPCORD is available in a range of widths: 150 millimeters (6 inches), 225 millimeters (9 inches), and 300 millimeters (12 inches) to accommodate a variety of job requirements. The product should be applied only when the air, surface and membrane are at temperatures of -4 C (25 F) or higher. Headquartered in Cambridge, Mass., Grace Construction Products, a division of W. R. Grace & Co. (NYSE: GRA), is a leading worldwide manufacturer of concrete admixtures, cement-processing additives, masonry products, fire protection and waterproofing products, and architectural concrete products. The company has more than 125 plants and sales offices around the world. For more information about Grace Construction Products, please call 866-333-3726 or visit www.graceconstruction.com.