Selective Soldering System offers in-line concurrent processing.
Press Release Summary: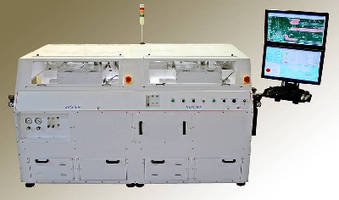 Fully-configured SMEMA-compatible, KISS-205 Selective Soldering System combines fluxing, pre-heating, and soldering into simultaneous functions to achieve gains in productivity. Dual universal PCB edge conveyor provides program controlled width adjustment, positive PCB location, and PCB flattening. Additional features include automated fiducial XY and skew correction, volumetric atomized and/or drop jet fluxer, and independently controlled dual pre-heater modules.
---
Original Press Release:

New ACE Selective Soldering KISS-205 Slashes TAKT Time 50%



Spokane Valley, Washington, USA - ACE Production Technologies' new "souped-up" KISS-205 Selective Soldering System with In-Line Concurrent Processing promises to slash TAKT time by up to 50% over standard selective soldering processes. This system and its ingenious new approach to managing processing time that practically doubles throughput will be introduced at IPC/APEX 2013 next month in San Diego.



The KISS-205 fully in-line automated Selective Soldering system effectively combines tasks of fluxing, pre-heating and soldering into simultaneous functions to achieve significant gains in productivity by reducing TAKT by up to 50%. This ability to execute multiple process functions simultaneously is a breakthrough that makes the reduction in TAKT possible as well as so significant.



In the KISS-205, a PCB is fluxed and brought to preheat temperature, then sent to a 2nd conveyor for soldering while concurrently applying flux and pre-heating the next PCB. This makes the KISS-205 twice as fast as an incremental processing selective soldering machine. Absolute process control is assured through programmable features that provide the tools to set all process parameters, including immersion depths, pre-heat dwells, travel distances and speeds, solder temperature and wave height.



The KISS-205 is fully-configured SMEMA-compatible; "Super Quick" motion speeds processing time; rapid setup and time to "first production" are expedited with the intuitive KISSware (software) off-line programming for ease of use; innovative features include a dual universal PCB edge conveyor with program controlled width adjustment, positive PCB location and PCB flattening, Automated fiducial XY and skew correction, and ACE's Volumetric atomized and/or Drop jet fluxer providing fluxing flexibility and accuracy. Dual pre-heater modules independently controlled with optical pyrometers optimize process control. The user has absolute control over all critical process parameters including solder wave flow rate.



Open accessibility simplifies maintenance and access to the process area; easy-change swappable solder pots (lead and lead-free) simplify changeover in high-mix environments.



About ACE Production Technologies Inc.

ACE Production Technologies is a designer and builder of simple, affordable selective soldering, lead tinning, and related systems suitable for lead-free electronics assembly. ACE's line of rugged, reliable selective soldering systems includes the KISS 101, KISS-102, KISS-103, and the KISS-104 models; all feature lead-free compatible solder pots and are ideal for low to medium volume assembly. For more information, visit www.ace-protech.com , or contact the company at 3010 N. Industrial Park, 1st Street, Spokane Valley, WA 99216; Tel. 509-924-4898, e-mail sales@ace©protech.com.

More from Fluid & Gas Flow Equipment